Tilden Prize 2017 Winner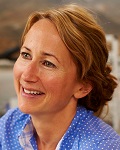 Professor Lucy Carpenter
University of York
Awarded for her research on the atmospheric chemistry and ocean-air emissions of reactive halogens
About the Winner
Lucy Carpenter received her BSc (Hons) in Chemistry from the University of Bristol and studied for a PhD in the subject of radical chemistry of the lower atmosphere at the University of East Anglia (supervisor Prof. Stuart Penkett). After postdoctoral research at UEA with Prof. Peter Liss CBE FRS and Prof. Bill Sturges, and the University of Leeds with Prof. Mike Pilling and Prof. Dwayne Heard, she was appointed to a temporary lectureship at the Department of Chemistry, University of York in 2000 and was awarded a personal chair in 2009.
Lucy has remained at York since her first appointment and is now Deputy Head - Research of the Chemistry Department. Her research group mainly work on the atmospheric chemistry, emissions and impact of processes relevant to the marine "background" atmosphere. She has established the importance of reactive halogen-containing molecules to tropospheric chemistry, and studied their complex chemistry within and on the surface of the oceans.
Her group's research on the global biogeochemistry of halogens (iodine and bromine) has been incorporated into the conclusions of the World Meteorological Organization/United Nations Environment Programme (WMO/UNEP) Scientific Assessments on Ozone Depletion, of which Lucy was a lead Chapter Author in 2014 and is currently for the next Assessment in 2018. Lucy is co-founder of the University of York atmospheric chemistry group, now the largest in the UK (Wolfson Atmospheric Chemistry Laboratories), and of the Cape Verde Atmospheric Observatory (CVO), a WMO "Global" observing station. Her research has been recognised by the award of a Philip Leverhulme Prize in 'Earth Ocean and Atmospheric Sciences' in 2006 and the Royal Society Rosalind Franklin Award in 2015.
Related Links

Professor Carpenter's Webpage
University of York
External links will open in a new browser window