De Gennes Prize 2015 Winner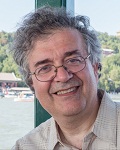 Professor Mercouri Kanatzidis
Northwestern University
Awarded for his development of novel chalcogenide and related materials that are useful in energy conversion and environmental remediation schemes
About the Winner
Mercouri G Kanatzidis was born in Thessaloniki Greece in 1957. He has a Bachelor of Science degree from Aristotle University in Greece. He received his PhD degree in chemistry from the University of Iowa in 1984. He was a postdoctoral fellow at the University of Michigan and Northwestern University from 1985 to 1987. He currently is a Charles E and Emma H Morrison Professor in Chemistry at Northwestern University.

Kanatzidis has been named a Presidential Young Investigator by the National Science Foundation, an Alfred P Sloan Fellow, a Beckman Young Investigator, a Camille and Henry Dreyfus Teaching Scholar, a Guggenheim Fellow and in 2003 was awarded the Alexander von Humboldt Prize. In 2014 he received the Einstein Professor Award, Chinese Academy of Sciences, the International Thermoelectric Society Outstanding Achievement Award; and the MRS Medal.

His research has generated seminal work in synthetic metal chalcogenide chemistry and the development of new functional chalcogenide materials. He has been active in the field of new thermoelectric materials for over twenty years. He also studies chalcogels, complex intermetallic phases and superconductors. He has interests in the synthetic design and prediction of new phases especially those that can cause disruptive changes in scientific thinking and in technology. The bulk of his work is described in the more than 850 research publications and over 20 patents.
Related Links

Professor Kanatzidis' webpage
Northwestern University
External links will open in a new browser window