Open Access at the RSC
Information on Open Access and RSC Policy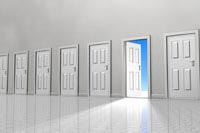 RSC Open Access statement
Open Access is the term given to making electronic versions of articles accessible to readers, without any subscription or 'access side' fees.
RSC supports Open Access models which seek to ensure that scholarly publishing activities operate in a long term sustainable way.
Our fundamental goal is to advance the chemical sciences, through the effective dissemination of high quality research content
We seek to maximise the dissemination of the research that we publish
We support any and all sustainable and fair models of access. We believe that the integrity and archiving of scholarly content must be maintained throughout
We support 'Gold'* Open Access and encourage funding to be made available to support authors during any transition from reader to author side payments
We support the author's ability to choose where they publish their work to the benefit of the advancement of science. We do not wish authors to be discriminated against if they are unable to pay author-side fees
We seek to work closely with other parties, including funders and government agencies, to achieve the above goals
RSC Publishing provides authors with the option to make their article Open Access, through payment of a fee on acceptance. Authors following the traditional route still have deposition options - details are on the 'Deposition and Licence to Publish' page of the website.
---
*There are several types of Open Access:
Gold Open Access: Publication costs are covered by an 'Article Processing Fees' being paid by authors upon acceptance. The final 'article of record' is made available to all, immediately, without any barriers to access
Green Open Access: A version of the paper (often the author's manuscript) is made available via a subject or institutional repository. An embargo period is often involved, typically 6-24 months. No payment is made, and publishers should strive to recoup their investment through traditional sales during the embargo period
Delayed Open Access: The final version of the paper is made available by the publisher after an embargo period (e.g. publisher deposit the paper in PubMed after 12 months)
RSC Open Access - Licence to Publish for journals

Authors choosing to publish via the Open Access route now have the option to publish under the Creative Commons Attribution (CC-BY) licence.
When the author accepts the Licence to Publish for a journal article, he/she retains certain rights where he/she can deposit the article.