As a charity, we are governed by our Council who may appoint boards and committees and delegate such powers to them as it may think fit.
Our boards and committees are formed through elected representative members, who contribute to guiding and driving our strategies and activities.
Leadership Team
Our Leadership Team manages the implementation and operational delivery of the Royal Society of Chemistry's agreed strategy and programmes of activity by promoting leadership and direction and works closely with Council to ensure we are governed effectively.
Robert Parker CSci CChem FRSC, Chief Executive Officer
Robert has been CEO since September 2011. During his time as CEO he has led a significant programme of change at the Royal Society of Chemistry, with a focus on striving for the next level of achievement through empowered staff and members. Robert has set out a clear vision for taking the organisation from great to even greater heights.
He has defined his leadership through powerful strategic direction, genuine trust in his staff, and a deeply-held belief in the power of the chemical sciences to change the world for the better.
Helen Pain CSci CChem FRSC, Deputy Chief Executive
Helen joined the Royal Society of Chemistry after completing a degree and PhD in Chemistry at Exeter University. At the RSC, she has led many of its strategic functions (including Membership and RSC China) and has over seven years' experience working at senior board level, becoming Deputy CEO in 2015.
In 2018, Helen was appointed as Chair of the Science Council, a UK charity for the advancement of the Science profession. Helen's experience in professional body governance has led to a strong belief in organisations remaining focused on their core purpose and in ensuring effective strategies and business models are in place in order that organisations remain relevant and sustainable. She is a champion for inclusion and diversity, a Chartered Chemist and a Chartered Scientist.
Paul Lewis FRSA, FInstLM, Deputy Chief Executive
Paul joined the Royal Society of Chemistry in 2018. A qualified teacher with an MBA, he has substantial senior leadership experience in the educational assessment, adult training and, skills credentialing sectors with specialist Government-to-Government and, international operating expertise.

Paul is responsible for leading the organisation's publishing, commercial and technology activities, maintaining and developing our position as a leading, high-quality publisher and knowledge provider.
Frank Gibson, Director of Technology
Frank joined the Royal Society of Chemistry in November 2014 from the publishing division of the Royal Pharmaceutical Society.
Frank's previous roles have involved working at the interface of the life sciences and computer science domains, with specific experience in the representation and management of scientific and healthcare knowledge, through the application of technology.
Karen Roberts, Director of Human Resources and Organisational Development
Karen joined the Royal Society of Chemistry in 2009 as HR Manager and then, after two years as Head of HR, was appointed to the Leadership Team in 2015. She, along with her team, is responsible for attracting, developing and retaining great people at the Royal Society of Chemistry.
A Chartered Member of the CIPD, Karen has a first degree from Sheffield Hallam University and a Masters in Organisational Change from Northampton Business School. She has over 20 years' experience in human resources working in organisations that operate across a variety of different sectors in the UK and internationally.
Emma Wilson MRSC, Director of Publishing, Journals and Databases
Emma has more than 15 years' experience working in the scholarly publishing sector. She has worked for both commercial and not-for-profit publishers in a variety of editorial and business development roles, joining the Royal Society of Chemistry in 2006 as a Journal Publisher.
Prior to her career in publishing, Emma was the recipient of an EMBO research fellowship after obtaining her PhD in biochemistry from Cambridge University.
Sarah Robertson MSc,
Director of Education and Professional Practice
Following a career in scientific and educational publishing, most recently with Oxford University Press, Sarah joined the Royal Society of Chemistry in 2015 in the new post of Director of Education.
She is committed to understanding the needs of teachers and learners, and to supporting the development of science education, from primary through to further and higher education. Sarah has an MSc from Imperial College London, and lives in Gloucestershire.
Jo Reynolds,
Director of Science and Communities
Jo joined the Royal Society of Chemistry in 2017, having previously been responsible for developing and evaluating Cancer Research UK's first five-year research strategy. She also led a programme of change across their UK network of centres and transformed their brand and engagement with the research community.
She has a PhD in biochemistry from the University of Cambridge.
Stephen Joyce, Director of Finance
Stephen joined the RSC in 2016. As Finance Director he has lead responsibility for all financial matters, and works closely with our Trustees to ensure that our financial management continues to be sound.
Stephen has over 30 years' experience of working in public sector, commercial and charity organisations. Before joining us he held senior finance roles in local government, major national charities and a University.
All images © Royal Society of Chemistry, courtesy of MPP Image Creation and Stephen Lake
Council
Council consists of up to 18 members who are also the Trustees of the charity. At least 12 are elected by the membership and up to six are appointed by the Council itself, which include those who serve as the Chairs of the Boards. The normal term of office is four years.
Council meets four times a year and is chaired by our President who serves one year as President-Elect, two years as President followed by one year as Immediate Past President. Our members can contact the Governance team if they wish to view Council minutes.
The President, President-Elect / Immediate Past-President and Honorary Treasurer are the Honorary Officers of the Royal Society of Chemistry.
Professor Dame Carol Robinson DBE HonFRSC FRS
President 2018-2020
Professor Dame Carol Robinson holds the Chair of Dr. Lee's Professor of Chemistry at the University of Oxford. A graduate of the Royal Society of Chemistry, she is recognised for using mass spectrometry to further her research into the 3D structure of proteins.
Carol is a Fellow of the Royal Society and a Foreign Associate of the US National Academy of Sciences. Her research has attracted international awards including the Anfinsen Award from the Protein Society and the Davy Medal and Rosalind Franklin Award from the Royal Society. Carol also holds eight honorary doctorates and received a DBE in 2013 for her contribution to science and industry.
Professor Sir John Holman CChem FRSC
Immediate Past President
John Holman is an Emeritus Professor of Chemistry at the University of York, and senior education adviser to the Wellcome Trust and the Gatsby Foundation. His interests include educational policymaking, curriculum development, teacher development and practical science.
He is experienced as a secondary school teacher and headteacher and as a government adviser, and founded the National Science Learning Centre. He is a Trustee of the Natural History Museum and Chair of the Salters Institute.
In 2014, John was awarded the Royal Society of Chemistry's Lord Lewis Award and the Royal Society's Kavli Education Medal. He was knighted in 2010 for services to education.
Dr Paul W Satchell CChem FRSC
Honorary Treasurer, retires 2020
Following a Ph.D. in Gas Kinetics with Howard Purnell, Paul joined BP at Sunbury in 1980. He continued to work in the chemical industry until 1996, latterly as a consultant with Coopers & Lybrand. Since then, Paul has been an equity analyst, specialising in pan-European chemicals, with advisory work in M&A and lending being recurrent themes throughout. Paul is frequently invited to present at global industry events, such as the World Aromatics Conference. He sits on the Editorial Advisory Board of ICIS Chemical Business and has served on the Investment Committee of the RSC for six years, latterly as Chair.
Professor Polly Arnold OBE CChem FRSC FRSE
Ordinary Member, retires 2019
Polly Arnold was born in London and studied at the Universities of Oxford and Sussex (DPhil 1997). After a Fulbright postdoctoral fellowship at MIT she returned to the UK to a lectureship at the University of Nottingham.
Polly has been at the University of Edinburgh since 2007, where she currently holds the Crum Brown Chair of Chemistry. Her interests are in small molecule activation and its application in catalysis, and in f-block structure and bonding.
Polly's work to improve gender equality and diversity in science is detailed in A Chemical Imbalance @ProfArno
Professor Sabine Flitsch CChem FRSC
Ordinary Member, retires 2019
Sabine Flitsch is Professor of Chemistry Biology at the University of Manchester, where she has been since 2005, following positions at the Universities of Exeter, Oxford and Edinburgh. Her Oxford DPhil was followed by postdoctoral work at MIT.
Sabine's scientific interests lie at the interface between chemistry and biology, in particular in the application of biocatalysis in organic synthesis for reactions such a C-H activation, oxidations, amidations and glycosylations. Carbohydrates are a specific focus, and more recently she has become interested in using glycan arrays in combination with mass spectrometry to understand protein-carbohydrate interactions.
She has served as Chair of the Royal Society of Chemistry's Carbohydrate Group, and in 2014 was awarded the Interdisciplinary Prize by the RSC.
Professor Melissa Hanna-Brown CChem FRSC
Ordinary Member, retires 2019
Melissa Hanna-Browns's role in Pfizer Sandwich is focused on developing the company's overarching technology and innovation strategy for the Pharmaceutical Sciences Development Organisation, with a specific remit to shape and monitor the growing company interactions with the dynamic external innovation ecosystem. Based in the UK, she supports colleagues in external collaborations, facilitating business interactions and scouting for new technologies or potential partner organisations.
Before Pfizer, Melissa was an academic member of staff in the Department of Pharmacy in King's College London teaching Pharmaceutical Chemistry and leading a research group. She holds a Visiting Chair in the Department of Chemistry, University of Warwick, and has authored over 50 publications.
She is a Fellow of the Royal Society of Chemistry, President of its Analytical Division and Chair of the Analytical Chemistry Trust Fund.
Dr David Rees CChem FRSC
Ordinary Member, retires 2019
David Rees is on the management team at Astex, a drug discovery company with around 80 research staff in Cambridge. He helped Astex grow from an early-stage biotech to its acquisition by Otsuka in 2013 for US$886 million.
One of David's scientific highlights was the discovery of Sugammdex, a first-in-class anaesthetic reversal agent used in hospitals in over 40 countries (Merck 2014 sales US$340 million).
David served as President of the Royal Society of Chemistry's Organic Division from 2010–2013. He has over 120 publications, and is a Visiting Professor in Cancer Medicinal Chemistry at Newcastle University.
Dr Janette Waterhouse CChem FRSC
Ordinary Member, retires 2019
Janette Waterhouse graduated (1st) in chemistry, and attained MSc in Thermochemistry and PhD in Spectroscopic and Chromatographic research.
Janette is now a consultant in the pharmaceutical industry after a long career in R&D, manufacturing and contract organisations, both in the UK and overseas. During her career she has had a strong analytical and quality input with direct managerial responsibility over large numbers of staff.
Janette was one of the four members of the management team awarded the BVCA Venture Capital-Backed Management Team of the Year in 2010.
Professor Andrew Bell CChem FRSC
Ordinary Member, retires 2021
Following a degree in chemistry at Oxford, a PhD at Southampton and postdocs in Japan, France and Southampton, Andy started at the then CBDE in Chemical and Biological detection in 1994. In 2005 Andy became the Chief Scientist for CBRN in the Home Office. After two years he returned as Chief Scientist in the Physical Sciences Department to Dstl. In 2011 Andy took the role of Dstl CTO and in late 2015, Andy was appointed the Head of the Centre for Applied Science and Technology in the Home Office.
Ms Julia Hatto BEM CSci CChem FRSC
Ordinary Member, retires 2021
Julia Hatto was born in Somerset and graduated from the University of Exeter. Following a long career in the pharmaceutical industry, she is now a consultant.
In addition to her research contribution, Julia has also been a passionate advocate for mentoring and training. She has inspired and supported the next generation of young scientists by establishing industry education partnerships for students from 8-18. She has nurtured the career development of apprentices and graduates to enable them to fulfil their potential. This resulted in a positive business impact on creativity and diversity in the talent pipeline.
Julia was awarded the British Empire Medal in 2016 for service to the chemical sciences.
Dr Elizabeth Rowsell FRSC
Ordinary Member, retires 2021
Liz Rowsell is the Director of the Johnson Matthey Technology Centres, which form the corporate R&D facilities for the company. Liz has 24 years of experience working in the Chemicals Industry across a range of sectors such as pharmaceuticals, mining, process chemistry and consumer goods.
In her role as Director Liz works closely with her businesses, customers and academia to identify new opportunities and ensure the company has leading technology to meet them.
Liz has been working with the RSC for over 20 years, most recently as one of the judging panel for the RSC Emerging Technologies Competition. She is a member of the Government's Advanced Materials Leadership council, working with academia, industry, skills providers and centres of excellence to provide strategic advice and leadership to enable the accelerated development of advanced material applications.
Professor Tom Simpson CChem FRSC FRS FRSE
Ordinary Member, retires 2021
Tom Simpson graduated BSc from Edinburgh, and Ph.D. Bristol. After postdoctoral work in Liverpool and the ANU he was appointed to a Lectureship in Edinburgh in 1978. He moved to Professorships in Leicester in 1988, and Bristol in 1990. His research covers the chemistry and biosynthesis of microbial natural products. He was elected FRS in 2001 and Fellow of the Royal Society of Edinburgh in 2006. He has received several RSC Awards, notably the Corday-Morgan Medal, Tilden, Simonsen and Hugo Müller Lectureships and the Natural Product and Rita and John Cornforth Awards.
Professor Geoffrey Maitland CChem CEng FRSC FIChemE FREng
Appointed Member, Chair of Publishing Board, retires 2020
Geoff Maitland is Professor of Energy Engineering at Imperial College London. He studied chemistry at Oxford University, obtaining his DPhil in physical chemistry in 1972, and was a senior lecturer in chemical engineering at Imperial from 1974 to 1986 before moving to work in the oil and gas industry for Schlumberger. There, he became Research Director for Chemistry and Biology before returning to Imperial to take up his current position in 2005.
Geoff has had a long-standing association with RSC Publishing, being a founder member of the Soft Matter Editorial Board 2004–2008, and a member of Publishing Board and its Science and Publications subcommittee since 2010. He sat on Faraday Division Council 2011–2014. Amongst his awards, Geoff received the Rideal Lecture Award of the RSC Colloid and Interface Science Group in 2012. He was President of the Institution of Chemical Engineers 2014–2015.
Professor Tom Welton OBE CChem FRSC
Appointed Member, Chair of Professional Standards Board, retires 2019
Tom Welton is Dean of the Faculty of Natural Sciences at Imperial College London.
He works with ionic liquids in order to develop sustainable solvent technologies. The central academic aim of his research is to understand how different chemical environments influence reaction processes, and to use this understanding to provide more effective chemical processes by the matching of the reaction with its optimum solvent environment.
Tom is the author of over 100 papers, primarily on the structures and chemistry of ionic liquids and their solutes.
Vacancies & elections
Vacancies and Elections
Governance Framework implemented from July 2018.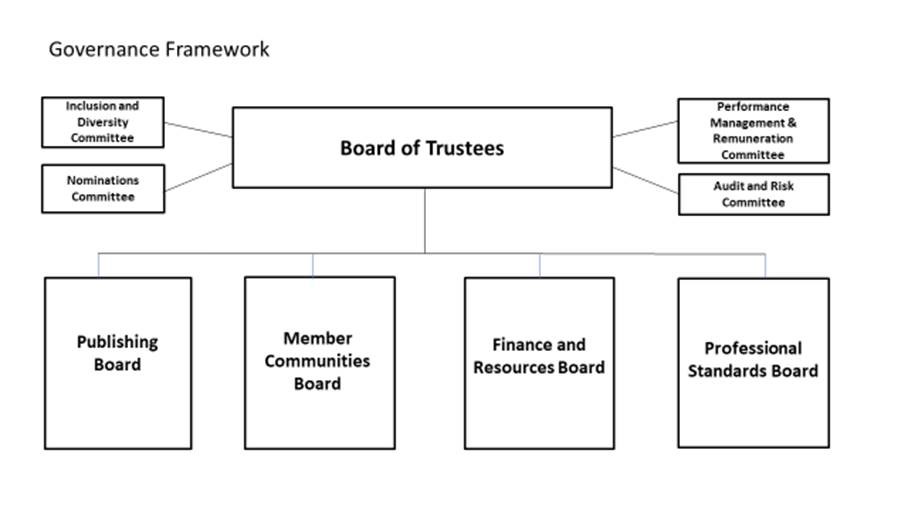 Our Trustees would like members serving on our governance bodies to represent the breadth and diversity of the chemical sciences, with reference to industrial and academic backgrounds, geographical spread, gender, ethnicity and age range.
---
Elected Members
Following our 2018 elections managed by Mi-Voice our newly elected members to Boards, Committee and Division Councils were announced at the Royal Society of Chemistry's Annual General Meeting held on 11 July 2018.
Member Communities Board
Dr Gareth Jenkins CChem FRSC
Dr Hooshang Zavareh CChem FRSC
Professor Venkateswarlu Peesapati CChem FRSC
Professional Standards Board
Dr Glynn Skerratt CChem FRSC
Inclusion and Diversity Committee
Professor Peter Edwards FRSC FRS
Dr Ebele Ezeadi MRSC
Analytical Division Council
Dr Daren Caruana MRSC
Paul O'Nion CSci CChem MRSC
Chemistry Biology Interface Division Council
Dr Laura Barter MRSC
Dr Richard Hartley CChem FRSC
Dalton Division Council
Dr Rosalyn Falconer MRSC
Dr James Wilton-Ely CChem FRSC
Professor Robert Mulvey CChem FRSC FRSE is elected as President Elect of the Dalton Division becoming Dalton Division President in July 2019.
Education Division Council
Dr Michael Seery CChem FRSC
Professor Dudley Shallcross CChem FRSC
Environment, Sustainability & Energy Division Council
Dr Julia Fahrenkamp-Uppenbrink CChem MRSC
Dr Caroline Gauchotte-Lindsay MRSC
Faraday Division Council
Dr Carmen Domene FRSC
Dr Nicholas Walker FRSC
Materials Chemistry Division Council
Dr Imad Ahmed CChem MRSC
Dr Benjamin Morgan MRSC Elected member
Organic Division Council
Dr Matilda Bingham MRSC
Professor Timothy Donohoe FRSC
Professor Stuart Conway CChem FRSC is elected as President Elect of the Organic Division becoming Organic Division President in July 2019.
Governance Review
Governance review
Our trustees' most important role is to steward the Royal Society of Chemistry's 177-year heritage and to plan for an even more successful future. This is why our Board of Trustees – called our Council – accepted the recommendations of our recent governance review led by our president, Professor Sir John Holman. Some of these recommendations involve changing elements of the membership of Council.
In making these changes we will gain even better expertise, planning and decision-making abilities, which will enable our community to continue to grow and succeed.
Good governance in charities is fundamental to their success. A charity is best placed to achieve its ambitions and aims if it has effective governance and the right leadership structures. Skilled and capable trustees will help a charity attract resources and put them to best use. Good governance enables and supports a charity's compliance with relevant legislation and regulation. It also promotes attitudes and a culture where everything works towards fulfilling the charity's vision.

(Charity Governance Code 2017)
---
Background
Our president, Professor Sir John Holman, initiated in 2016 a review of our governance to clarify the role of the trustees, the structure and membership of Council (Board of Trustees), boards and committees and the effectiveness of the relationship with the executive.
Working with our staff, members and external specialists, and to standards and frameworks of sector best practice, the review identified that there is capacity for improvement of aspects of our governance, including:
the purpose and function of the boards
the skills mix required from trustees to effectively discharge their legal and financial responsibilities
a culture that facilitates high-level strategic conversations, effective self-evaluation and inclusivity across the governance structure
the governance schedule and a realistic view of volunteer commitment
the nominations and elections process
[We want to ensure] an organisation that is fit for chemistry in the 21st century, and the diverse community within which it operates – and to enable the Royal Society of Chemistry to respond to that community and its changing needs.
---
Proposed changes
Council approved 25 recommendations for changes to our governance structures and processes. Three of these – specifically those related to the make-up of Council – require changes to our by-laws. These are:
The role of honorary treasurer will become appointed from within the membership rather than elected from within the membership. (Due to the complex nature of this role, the associated skills-set and significant time commitment, there are often no nominees for election to the role of Honorary Treasurer and the position has to be filled by appointment. By formalising this practice, we can ensure that candidates continue to have the appropriate skills-set and understanding of the time commitment demanded by this role).
At the end of their term of office, the president will step down as a trustee (allowing the president-elect to serve a two-year term of office before becoming president for two years).
Up to three non-Royal Society of Chemistry members may be appointed as trustees (to ensure flexibility in finding an appropriate collective skills base of our trustees).
We will present these proposals at our Annual General Meeting in 2018 and, if passed by voting members, to the Privy Council for approval.
The remaining recommendations propose operational changes, such as the structure of our boards and committees, and working practices for Council, boards and committees. Council have already accepted these changes and we will implement them after the AGM in 2018.
Council has approved the following governance framework, which we will implement from July 2018: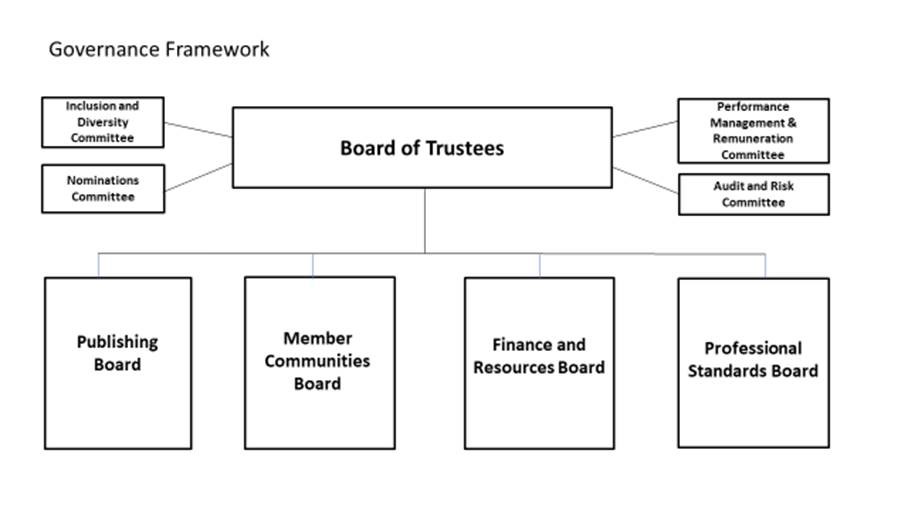 Through this framework of boards and committees, we will ensure that we meet our legal and financial responsibilities and that we develop our strategic aims and objectives with recognition of the diversity of our activities, the sectors we operate in, and the communities we engage with.
These boards and committees will be supported by a number of sub-committees and working groups with responsibility for a specific task (such as the Admissions Committee, Benevolent Fund Grants Committee etc).
We will also be creating a Strategic Advisory Forum, intended to provide advice to Council, from a global perspective, on how the chemical sciences are likely to develop over the next 10-20 years and what issues and opportunities Council (as well as boards and staff) might need to take into consideration in developing and implementing our strategy.
Contact for further info: Gemma Wood
Leadership Team
Send us an email and we will be happy to help with your enquiry
Email:
Governance Team
For enquiries regarding our structure and governance
Email:
Share