A multidisciplinary journal focussing on all fundamental science and technological aspects of catalysis
About Catalysis Science & Technology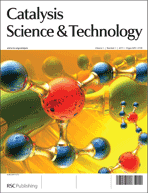 Scope
Catalysis Science & Technology is a new multidisciplinary journal focussing on both the fundamental science of catalysis and the science of catalysis technology, including applications addressing societal demands such as CO2 reduction, conversion of renewables and fuels. The journal contains a balanced mix of applied, fundamental, experimental and computational research, thus appealing to both academic and industrial scientists.
Catalysis Science & Technology brings together the best quality research from the heterogeneous, homogeneous, organocatalysis and bio-catalysis communities.
Article Types
Catalysis Science & Technology publishes a full mix of primary articles, communications and reviews.
Readership
Academic and industrial chemists of all disciplines using heterogeneous and homogeneous catalysis: organic, organometallic, inorganic and bio(in)organic chemists; biochemists; physical and theoretical chemists; materials, polymer, surface, and environmental scientists.