About Chemical Society Reviews
Chemical Society Reviews (Chem Soc Rev) is the Royal Society of Chemistry's flagship reviews journal, publishing high-impact, succinct and reader-friendly articles at the forefront of the chemical sciences. We particularly encourage international and multidisciplinary collaborations among our authors.

Impact factor: 30.425

Truly international authorship and readership: from emerging investigators to eminent scientists

Fast times to publication

World-leading scientists as Associate Editors and Editorial Board members

Topical themed issues throughout the year

Unlimited free colour, both online and in print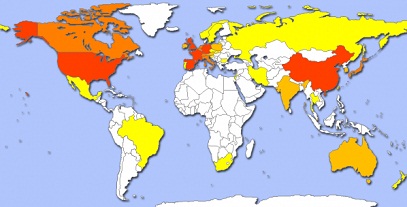 International authorship: Location of authors who published Chem Soc Rev articles in 2013 (darker the colour, the more authors in that country).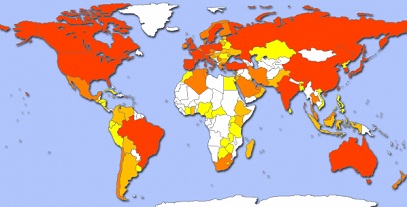 Global readership: Number of downloads of Chem Soc Rev articles in 2013 by country (darker the colour, higher the usage).
Chemical Society Reviews publishes Tutorial Reviews and Reviews:

Tutorial Reviews are short, authoritative overviews of important topics in the chemical sciences. They are of relevance to both the general research chemist who is new to the field as well as the expert. They provide a good introduction to the development of a subject, its current standing and implications for the wider scientific community.

Reviews provide an authoritative and in-depth understanding of important topics in the chemical sciences. They give a very high quality state-of-the-art account of the subject matter and a balanced assessment of the current primary literature.

Readership: Scientists working in all areas of the chemical sciences.

Abstracts: Cited in various databases including MEDLINE and Science Citation Index.

Submission: The majority of reviews are invited by the Editorial Board. However, the Editorial Office welcomes suggestions for reviews that would be suitable for the journal. To aid the Editorial Board to judge the suitability of a proposed review for the journal, all authors should complete a review proposal form. Please see the journal guidelines for more details.
Chemical Society Reviews journal guidelines