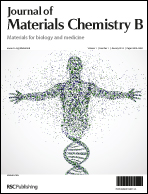 High impact applications, properties and synthesis of exciting new materials for biology and medicine
Contact the Journal
Journal of Materials Chemistry B
Royal Society of Chemistry, Thomas Graham House, Science Park, Milton Road, Cambridge, CB4 0WF
Tel: + 44 (0) 1223 420066
Fax: + 44 (0) 1223 420247

---
Journal of Materials Chemistry B Staff

Contact details and further information about the Journal of Materials Chemistry B Editorial team
Journal of Materials Chemistry B Editorial Board
Deputy Editor-in-Chief

Journal of Materials Chemistry B
Christine E. Schmidt is the Pruitt Family Professor and Department Chair for the J. Crayton Pruitt Family Department of Biomedical Engineering at the University of Florida. Christine received her PhD in Chemical Engineering from The University of Illinois at Urbana-Champaign in 1995. Christine is a Fellow of the American Institute for Medical and Biological Engineering (AIMBE) and a Fellow of the Biomedical Engineering Society (BMES). She has received numerous research, teaching, and advising awards, including the American Competitiveness and Innovation (ACI) Fellowship from NSF's Division of Materials Research, the Chairmen's Distinguished Life Sciences Award by the Christopher Columbus Fellowship Foundation and the U.S. Chamber of Commerce, a National Science Foundation CAREER Award, and a Whitaker Young Investigator Award. Christine's research is focused on developing new biomaterials and biomaterial composites for neural engineering applications.
Associate Editor

Associate Editor, Journal of Materials Chemistry B
Jiang Chang is a Professor at the Chinese Academy of Sciences. Fellow of International Union of Societies for Biomaterials Science and Engineering (FBSE), Fellow of Royal Society of Chemistry, (FRSC) and Fellow of American Institute of Medical and Biological Engineering (AIMBE). He earned his PhD in 1991 in Chemistry from the Technical University of Darmstadt in Germany and worked as a postdoctoral Research Fellow at the Medical University of Luebeck in Germany. Since 2000 Jiang has been a Professor and Director of the Biomaterials and Tissue Engineering Research Center at the Shanghai Institute of Ceramics and Adjunct Professor at Shanghai Jiaotong University School of Biomedical Engineering/Med-X Research Institute. Jiang is the Vice President of the Interdisciplinary Research Society for Bone and Joint Injectable Biomaterials. His research focuses on bioactive materials for tissue regeneration and tissue engineering and mechanisms of cell-biomaterial interaction.
Associate Editor, Journal of Materials Chemistry B
Guoping Chen received his PhD from Kyoto University in 1997 majoring in biomaterials.He became researcher in 2000 and senior researcher in 2003 at Tissue Engineering Research Center, National Institute for Advanced Industrial Science and Technology, Japan. He moved to the Biomaterials Center, National Institute for Materials Science (NIMS), Japan, as senior researcher in 2004 and was group leader from January 2007 to March 2011. Since April 2011, he has been principal investigator and unit director of Tissue Regeneration Materials Unit, International Center for Materials Nanoarchitectonics, NIMS. His current research interests include biomaterials, tissue engineering, porous scaffolds, biomimetic matrices, micro-patterning and surface modification. He has received several awards such as Young Scientist Award from the Japanese Society for Biomaterials in 2001, Original Award from the Japanese Society of Artificial Organs in 2002 and the Tsukuba Award of Chemical and Bio-Technology in 2005.

Associate Editor, Journal of Materials Chemistry B
Jeroen Cornelissen is a Professor in Biomolecular Nanotechnology at the University of Twente, Enschede, and the Netherlands. He studied chemistry in The Netherlands with a minor in polymer chemistry carried out at the Eindhoven University of Technology with Professor E.W. Meijer and a major in Supramolecular Chemistry and Catalysis at the University of Nijmegen with Professor R.J.M. Nolte. He received his PhD (cum laude) from the University of Nijmegen in 2001. After postdoctoral work at the IBM Almaden Research Center in San Jose, USA. he returned to Nijmegen, where he was appointed as an Assistant Professor until 2009. His current research interests are in well-defined polymer architectures, hybrid systems of synthetic macromolecules and biopolymers and the use of viruses as building blocks in functional materials.

Associate Editor, Journal of Materials Chemistry B
Xinyan Tracy Cui is an Associate Professor of Bioengineering at the University of Pittsburgh. She earned her PhD in Macromolecular Science and Engineering at the University of Michigan, Ann Arbor, Michigan. Prior to this she was a Research Scientist at Unilever Research US in Edgewater, New Jersey. Dr Cui's primary research focus is on the interactions between neural tissue and smart biomaterials. Research areas include the neural electrode-tissue interface, neural tissue engineering, drug delivery, and biosensors. For her work, Dr Cui has won numerous awards including 2013 Carnegie Science Emerging Female Scientist Award and the 2009 and 2011 Pitt Innovator Award. She serves as a grant agency reviewer for the National Institute of Health, National Science Foundation, Science Foundation of Ireland as well as the American Institute of Biological Sciences.

Associate Editor, Journal of Materials Chemistry B
Dal-Hee Min received her PhD from University of Chicago (2005). She joined Prof. Sangeeta Bhatia's group as a postdoctoral researcher in Division of Health Science and Technology, Massachusetts Institute of Technology, USA, for two years. In 2007, she started her independent academic carrier at KAIST as an Assistant Professor of the Department of Chemistry and moved to Seoul National Univeristy as an Associate Professor in 2011. Her recent research involves the development of bioanalytical platforms based on various nanomaterials for diagnostics, biosensing, drug discovery and drug delivery system with collective understanding on nano-surface chemistry, cellular behavior and the interactions of biomolecules with nanomaterials. Her group focuses on diverse biological applications of graphene derivatives and porous nanomaterials. Her recent scientific awards includes Ewon Professorship, Top 100 Excellent Research Accomplishment Award (National Science & Technology Commission, Korea, 2011), the KCS-Wiley Young Chemist Award (KCS-Wiley, 2012) and Distinguished Lectureship Award (Chemical Society of Japan, 2013).

Associate Editor, Journal of Materials Chemistry B
Marc in het Panhuis is the Associate Dean in the Faculty of Science, Medicine and Health, Head of the Soft Materials Group in the School of Chemistry, and Chief Investigator in the Intelligent Polymer Research Institute and ARC Centre of Excellence for Electromaterials Science in the Australian Institute for Innovative Materials at the University of Wollongong in Australia. He obtained his PhD in Physics from The University of Dublin, Trinity College (Ireland) and carried out post-doctoral research in Chemistry at UMIST (now University of Manchester, UK). The focus of his research is to combine bio- and synthetic polymers with carbon nanostructures, and/or conducting polymers via processing techniques such as additive fabrication into soft materials for water treatment, soft robotics, bionics and tissue engineering applications.

Associate Editor, Journal of Materials Chemistry B
Xiaogang Qu received his PhD from the Chinese Academy of Sciences (CAS) in 1995 with CAS President's Award. He moved to the USA afterwards and worked with Professor J. B. Chaires at the Mississippi Medical Center and Nobel Laureate Professor Ahmed. H. Zewail at the California Institute of Technology. Since late 2002, he is a professor at Changchun Institute of Applied Chemistry, CAS. From 12/2006 to 05/2007, he visited the group of Nobel Laureate Professor Alan J. Heeger at the UCSB. His current research is focused on ligand-nucleic acids or related protein interactions, and bio-functional materials for advanced medical technology.
Zhengzhong Shao
Associate Editor
Fudan University, China
br>

Associate Editor, Journal of Materials Chemistry B
Laura Suggs is an Associate Professor at the University of Texas at Austin and Associate Chair of the Department of Biomedical Engineering. Laura's research program is in the area of biologically active materials and their use and behavior in cardiovascular tissue engineering and cancer research. She works to better understand molecular and cellular mechanisms during processes such as vasculogenesis as well as the structure of both natural and synthetic polymers and their effect on living tissues. Her lab is also working on understanding how stem and progenitor cells interact with their microenvironment for applications in cell therapy. Laura earned her PhD in chemical engineering with a concentration in biomaterials and tissue engineering from Rice University. Following an industrial position as a Senior Scientist and a Research Associate position at the University of Minnesota, she returned to Texas to join the faculty of The University of Texas at Austin. As a result of her contributions, she was recently elected to the American Institute of Medical and Biological Engineering.
Journal of Materials Chemistry Executive Editorial Board
Nazario Martin
Editor-in-Chief
Universidad Complutense Madrid, Spain
br>
Hiroshi Imahori
Deputy Editor-in-Chief
Journal of Materials Chemistry A, Kyoto University, Japan
br>
Christine Schmidt
Deputy Editor-in-Chief
Journal of Materials Chemistry B University of Florida, USA
br>
Peter Skabara
Deputy Editor-in-Chief
Journal of Materials Chemistry C WestCHEM, University of Strathclyde, UK
br>
Jeroen Cornelissen
Associate Editor
Journal of Materials Chemistry B University of Twente, The Netherlands
br>
David Lou
Associate Editor
Journal of Materials Chemistry A Nanyang Technological University, Singapore
br>
Natalie Stingelin
Associate Editor
Journal of Materials Chemistry C Imperial College London, UK
br>
Journal of Materials Chemistry B Advisory Board
Christopher Bettinger
Carnegie Mellon University, USA
br>
Susmita Bose
Washington State University, USA
br>
Helmut Cölfen
University of Konstanz, Germany
br>
Joel Collier
University of Chicago, USA
br>
Tejal Desai
University of California, San Francisco, USA
br>
Edmond Dik-Lung Ma
Hong Kong Baptist University, Hong Kong
br>
Etienne Duguet
Université Bordeaux-1, France
br>
Lara Estroff
Cornell University, USA
br>
Chunhai Fan
Shanghai Institute of Applied Physics, Chinese Academy of Sciences, China
br>
Aharon Gedanken
Bar-Ilan University, Israel
br>
Nathan Gianneschi
University of California, San Diego, USA
br>
Akon Higuchi
National Central University, Japan
br>
Kurt Kasper
The University of Texas Health Science Center at Houston, USA
br>
Ali Khademhosseini
Harvard-MIT, USA
br>
Benjamin Keselowsky
University of Florida, USA
br>
Jayant Khandare
Maharashtra Institute of Pharmacy, Pune, India
br>
LaShanda Korley
Case Western Reserve University, USA
br>
Zi-Chen Li
Peking University, China
br>
Hai-Quan Mao
Johns Hopkins University, USA
br>
Luis Liz-Marzán
CIC biomaGUNE, Spain
br>
David Martin
University of Delaware, USA
br>
Kristyn Masters
University of Wisconsin-Madison, USA
br>
George Malliaras
Centre Microélectronique de Provence, France
br>
Ali Miserez
Nanyang Technological University, Singapore
br>
Katja Schenke-Layland
Fraunhofer Institute for Interfacial Engineering and Biotechnology IGB, Germany
br>
Wei Shen
Monash University, Australia
br>
Youqing Shen
Zhejiang University, China
br>
Martina Stenzel
University of New South Wales, Australia
br>
Johnna Temenoff
Georgia Institute of Technology, USA
br>
Jan van Hest
Radboud University Nijmegen, The Netherlands
br>
Zhiyuan Zhong
Soochow University, China
br>