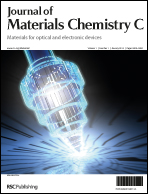 High impact applications, properties and synthesis of exciting new materials for optical, magnetic and electronic devices
Contact the Journal
Journal of Materials Chemistry C
Royal Society of Chemistry, Thomas Graham House, Science Park, Milton Road, Cambridge, CB4 0WF
Tel: + 44 (0) 1223 420066
Fax: + 44 (0) 1223 420247

---
Journal of Materials Chemistry C Staff

Contact details and further information about the Journal of Materials Chemistry C Editorial team
Journal of Materials Chemistry C Editorial Board
Deputy Editor-in-Chief

Journal of Materials Chemistry C
Peter Skabara is a Professor of Materials Chemistry in the department of Pure and Applied Chemistry at the University of Strathclyde. He was awarded the Royal Society Wolfson Research Merit Award in 2014 and is currently researching plastic electronics, device fabrication, synthesis of electroactive materials, electrochemistry, spectroelectrochemistry, self-assembly, non-covalent interactions and control of conformation.
Associate Editor

Associate Editor, Journal of Materials Chemistry C
Gitti Frey is an associate professor of Materials Science and Engineering at The Technion - Israel Institute of Technology. She achieved her PhD in Materials Science at the Weizmann Institute of Science, Israel. Gitti was a postdoctoral Fellow in the Cavendish Laboratory, Cambridge, working on semiconducting polymer physics and devices. She joined the Technion in 2002 as an Assistant Professor of Materials Engineering and was promoted to Associate Professor in January 2009. Among other awards, Gitti received the Marie Curie Fellowship, The Alon Fellowship, and the Technion's Yanai Excellence in Teaching Award. Gitti's group has performed significant work in the field of functional hybrid materials, including the co-assembly of organic and inorganic precursors into hierarchical structures, and correlating the interfacial structure with photo-physical processes towards energy applications such as photovoltaics and light-emitting diodes.

Associate Editor, Journal of Materials Chemistry C
Justin D. Holmes is Professor of Nanochemistry at University College Cork, Ireland and leads the Materials Chemistry & Analysis Group. He is conducting research on the development of chemical methods for synthesising and assembling nanostructured materials for electronic, sensing, energy and catalytic applications. Justin is a Group Leader and Principal Investigator at the Tyndall National Institute in Cork, where his research focuses on investigating nanoscale materials for electronic applications, particularly their in-depth characterisation by advanced electron microscopy techniques.

Associate Editor, Journal of Materials Chemistry C
Luis E. Hueso is currently an IKERBASQUE Research Professor and leader of the Nanodevices group at CIC nanoGUNE in San Sebastian (Spain). He obtained a PhD in Physics in Santiago de Compostela and after postdoctoral experience in Cambridge (with Neil Mathur) and in Bologna (with Alek Dediu), he worked as a lecturer at the University of Leeds before taking up his current position in 2009. His research interests lie in the fields of spintronics with molecular materials, electronic memory devices, plasmonics and nanofabrication. He is currently an ERC Starting Grant holder and participates in several EU-funded projects with a wide network of collaborators in different countries.

Associate Editor, Journal of Materials Chemistry C
Malika Jeffries-EL has a background in organic chemistry and leads a research group focused on the development of organic semiconductors for use in OLEDs and OPVs. She received her masters and doctorate degrees in chemistry from The George Washington University. She then worked as a post-doctoral fellowship under the direction of Professor Richard D. McCullough at Carnegie Mellon University. In 2005 she joined the faculty in the Chemistry Department at Iowa State University and was promoted to associate professor with tenure in 2012.

Associate Editor, Journal of Materials Chemistry C
Neil Robertson graduated from the University of Edinburgh for his BSc and PhD degrees, and then worked in the Freie Universität Berlin, University of Wales Bangor and Imperial College London before returning to Edinburgh where he has remained since 2001. His research is focused on the design, synthesis, characterisation and application of new molecules for electronic materials, including dye-sensitised and perovskite solar cells, and multifunctional molecular semiconductors incorporating optical and magnetic properties. He has acted as Deputy Director of the Supergen Excitonic Solar Cells Consortium (UK) and Director of the Scottish Institute for Solar Energy Research and Energy Technology Partnership. He is a Fellow of the UK higher Education Academy and a Fellow of the Royal Society of Chemistry. He has initiated the Solar Spark project promoting low-cost solar energy to the wider public, which now links into Royal Society of Chemistry "Learn Chemistry".

Associate Editor, Journal of Materials Chemistry C
Federico Rosei has held the Canada Research Chair in Nanostructured Organic and Inorganic Materials since 2003. He is Professor and Director of Institut National de la Recherche Scientifique, Énergie, Matériaux et Télécommunications, Université du Québec, Varennes (QC) Canada. He received his PhD from the University of Rome "La Sapienza".Federico's research interests focus on the properties of nanostructured materials, and on how to control their size, shape, composition, stability and positioning when grown on suitable substrates. He has extensive experience in fabricating, processing and characterizing inorganic, organic and biocompatible nanomaterials. In 2014, he was elected a Fellow of the Royal Society of Canada. He has received several awards, including the Herzberg Medal from the Canadian Association of Physics (2013), the Brian Ives lectureship award from ASM international / Canada Council (2013), the Award for Excellence in Materials Chemistry from the Canadian Society for Chemistry (2014), the NSERC EWR Steacie Memorial Fellowship (2014), the José Vasconcelos Award for Education from the World Cultural Council (2014) and IEEE NTC Distinguished Lecturer 2015.

Associate Editor, Journal of Materials Chemistry C
Natalie Stingelin is a Professor of Functional Organic Materials, Imperial College London, UK, where she conducts research in the broad area of organic functional materials, including organic electronics, multifunctional inorganic/organic hybrids and smart, advanced optical systems based on organic matter. She has more than 70 papers and in 2011 she received an ERC Young Investigator Award.

Associate Editor, Journal of Materials Chemistry C
Wai-Yeung Wong received his PhD from the University of Hong Kong in 1995. After his postdoctoral work at Texas A&M University in 1996 with Professor F. Albert Cotton, he worked for Professors The Lord Lewis (FRS) and Paul R. Raithby at the University of Cambridge in 1997. He joined Hong Kong Baptist University as an Assistant Professor in 1998 and is currently a Chair Professor in Chemistry and head of department there. His research mainly focuses on synthetic inorganic/organometallic chemistry and materials chemistry, with special emphasis on developing metal-based molecular materials with energy functions and photofunctional properties. Wei-Yeung is internationally renowned for his research in metallopolymers and metallo-organic molecules for various organic optoelectronic applications. He was the recipient of the Royal Society of Chemistry Chemistry Transition Metals Award in 2010, and won the FACS Distinguished Young Chemist Award in 2011, the Distinguished Lectureship Award from The Chemical Society of Japan in 2012 and the Ho Leung Ho Lee Foundation Prize for Scientific and Technological Innovation in 2012. He is currently the Chairman of Hong Kong Chemical Society.

Associate Editor, Journal of Materials Chemistry C
Yadong Yin received his Masters (1998) in Chemistry from the University of Science and Technology of China. From 1999 to 2002, he was a graduate student in the Department of Materials Science and Engineering at the University of Washington, Seattle, under the guidance of Prof. Younan Xia. In 2003, he became a postdoctoral fellow at Professor Paul Alivisatos' group at the University of California, Berkeley. Soon after he joined the Molecular Foundry at the Lawrence Berkeley National Laboratory, as initially a postdoctoral fellow and then a staff scientist. Since 2006, he has been a Professor of Chemistry at the University of California, Riverside. His research interest focuses on the synthesis, self-assembly, and functionalization of nanostructured materials for catalytic, analytical, energy, and photonic applications. Yadong has received a number of national awards, including Cottrell Scholar Award from the Research Corporation for Science Advancement, DuPont Young Professor Grant, 3M Nontenured Faculty Grant, the Faculty Early Career Development award from the National Science Foundation, and the Distinguished Junior Faculty Award from the Chinese-American Chemistry Professor Association.

Associate Editor, Journal of Materials Chemistry C
Xiaowei Zhan obtained a PhD degree in chemistry from Zhejiang University in 1998. Xiaowei worked at the University of Arizona and Georgia Institute of Technology from 2002 to 2006 as a Research Associate and Research Scientist. He has been a full Professor at the Institute of Chemistry, Chinese Academy of Sciences since 2006. In 2012, he moved to Peking University. His research interests are in the development of organic and polymeric materials for organic electronics and photonics, such as transistors and solar cells. Xiaowei is a Fellow of the Royal Society of Chemistry.
Journal of Materials Chemistry Executive Editorial Board
Nazario Martin
Editor-in-Chief
Universidad Complutense Madrid, Spain
br>
Hiroshi Imahori
Deputy Editor-in-Chief
Journal of Materials Chemistry A, Kyoto University, Japan
br>
Christine Schmidt
Deputy Editor-in-Chief
Journal of Materials Chemistry B University of Florida, USA
br>
Peter Skabara
Deputy Editor-in-Chief
Journal of Materials Chemistry C WestCHEM, University of Strathclyde, UK
br>
Jeroen Cornelissen
Associate Editor
Journal of Materials Chemistry B University of Twente, The Netherlands
br>
David Lou
Associate Editor
Journal of Materials Chemistry A Nanyang Technological University, Singapore
br>
Natalie Stingelin
Associate Editor
Journal of Materials Chemistry C Imperial College London, UK
br>
Journal of Materials Chemistry C Advisory Board
Kunio Awaga
Nagoya University, Japan
br>
Chunli Bai
CAS Key Laboratory of Molecular Nanostructure and Nanotechnology, China
br>
Eric Bittner
University of Houston, USA
br>
Timothy Bunning
Air Force Research Laboratory, USA
br>
Kenneth Carter
University of Massachusetts - Amherst, USA
br>
Manish Chhowalla
Rutgers - The State University of New Jersey, USA
br>
Lay-Lay Chua
National University of Singapore, Singapore
br>
David Evans
Beijing University of Chemical Technology, China
br>
Mark Green
Kings College London, UK
br>
Haitao Huang
Hong Kong Polytechnic University, Hong Kong
br>
Mercouri Kanatzidis
Northwestern University, USA
br>
Takashi Kato
University of Tokyo, Japan
br>
Junji Kido
Yamagata University, Japan
br>
Sang-Wook Kim
Ajou University, Korea
br>
Seth Marder
Georgia Institute of Technology, USA
br>
Paul Meredith
University of Queensland, Australia
br>
Hiroshi Nishihara
University of Tokyo, Japan
br>
Jianyong Ouyang
National University of Singapore, Singapore
br>
Peter Reiss
CEA Grenoble INAC/SPrAM, France
br>
Garry Rumbles
National Renewable Energy Laboratory, USA
br>
Paolo Samori
Université Louis Pasteur, France
br>
Cheol Seong Hwang
Seoul National University, Korea
br>
Ram Seshadri
University of California, Santa Barbara, USA
br>
Zhigang Shuai
Tsinghua University, China
br>
Carlos Silva
University of Montreal, Canada
br>
Jeff Snyder
California Institute of Technology, USA
br>
Christoph  Weder
Adolphe Merkle Institute, Switzerland
br>
Patrick Woodward
Ohio State University, USA
br>
Anatoly Zayats
Kings College London, UK
br>