Watts New with Clean Energy? Batteries Included
A major challenge in the twenty-first century is the development of cleaner sustainable sources of energy to deal with concerns over global warming and declining fossil fuel reserves.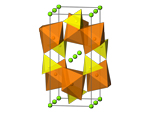 A range of green technologies, including fuel cells and lithium batteries, are being developed to help reduce carbon emissions. New materials and greater understanding are crucial for major advances in these energy technologies, ranging from hybrid and electric cars to solar power.
This talk will show how scientists use structural and modelling techniques to help understand the fascinating properties of crystalline materials.
The audience will have the opportunity, with the aid of 3-D specs, to visualise beautiful crystal structures on the atomic scale. These include materials for lithium batteries, similar to those that have helped to revolutionize portable electronics such as mobile phones and mp3 players, which are now being developed for hybrid or pure electric vehicles to cut CO2 emissions.
Lecturer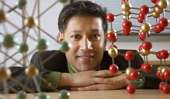 This year's lecturer, Prof Saiful Islam, grew up in Crouch End, north London and studied Chemistry at University College London followed by a Postdoctoral Fellowship at the Eastman Kodak Labs in New York, USA. He was then Lecturer at the University of Surrey, and in 2006 he was appointed Professor of Materials Chemistry at the University of Bath.
In 2008, he was awarded the RSC Francis Bacon Medal (Fuel Cell Science Award). Saiful is married with two young children, and enjoys football, indie music and The Guardian over a double espresso.
Support
We would like to thank the Armourers & Brasiers for their support of this event

Venues
Professor Saiful Islam delivered his first lecture at the Chemistry Centre in London on 23 November 2011.
Related Links
Watts New with Clean Energy? Batteries Included, Tuesday 13th November 2012 (7pm), University of Birmingham
Free evening schools lecture (sixth form) School of Chemistry, University of Birmingham Haworth 101 (main lecture theatre)
University of Manchester STEM activities
Recent evidence indicates that the availability of special activities to support the take-up of STEM subjects in school and in university is having a really positive impact on the number of children opting to continue with science subjects at a more advanced level and beyond.
External links will open in a new browser window
Contact and Further Information
RSC Events
Royal Society of Chemistry, Thomas Graham House, Science Park, Milton Road, Cambridge CB4 0WF, UK
Tel: +44 (0) 1223 432254 / 432380
Fax: +44 (0) 1223 423623

---