Royal Society of Chemistry partnership with GSK – two years in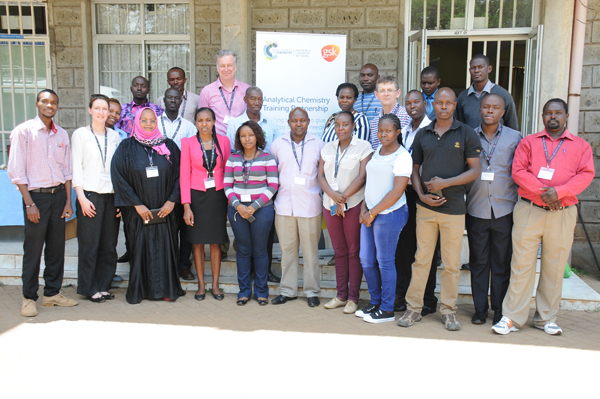 The Pan Africa Chemistry Network (PACN) works to support the creation of a self-sustaining science base in Africa, to solve local challenges and contribute to global knowledge in the chemical sciences.
In 2015, we launched a five-year partnership with GSK to train over 400 African scientists in key analytical chemistry techniques by 2020.
Volunteers from GSK are sharing their technical expertise as trainers and advisers on the programme, which is based at the PACN hubs in Ethiopia, Ghana, Kenya and Nigeria.
The training covers Gas Chromatography Mass Spectrometry (GC-MS) and Liquid Chromatography Mass Spectrometry (LC-MS), which are vital analytical techniques. Delegates learn the theory and practical aspects, as well as how to repair and maintain the machines.
A key part of the programme is to train local chemical scientists to run the GC-MS training into the future. We have already recruited 11 local trainers, some of whom are already rolling out the course to regional universities in their home countries.
The training is already making an impact
Second year highlights
In 2017, we trained 94 scientists on GC-MS and LC-MS techniques, bringing the total to 161. We held five GC-MS training courses – two in Kenya and one at each of our other hubs in Ghana, Nigeria and Ethiopia.
We also held our first Liquid Chromatography Mass Spectrometry (LC-MS) training course, hosted by JKUAT in Nairobi, Kenya, with the teaching materials supplied by our collaborator Anthias Consulting.
GC-MS and LC-MS are complementary techniques, both crucial in analytical chemistry, and have different strengths. LC-MS can be carried out using liquid samples and is therefore suitable for a wider range of compounds than GC-MS. It is particularly useful in pharmaceuticals research, water analysis and environmental monitoring.
Over the past year the programme has benefitted from equipment donations from Waters Corporation, Agilent Technologies, Peak Scientific, Providion, and Recycling Organisation Research Opportunities (RORO).
We are continuing to see how the training and support has made a real impact on individuals and their science.
With their new skills, previous course delegates say they are better able to troubleshoot the equipment at their universities, and are applying their expertise to research that includes exploring the anti-malarial properties of plants, screening drinking water for contaminants and identifying counterfeit medicine.


Our equipment was purchased in 2013 and since then it has been abandoned due to some problems, such as lack of technical know-how, inability to replace the GC accessories (column, septum, and liner), gas leakages from gas lines and familiarization of the GC software.

"Immediately after my training in November 2016, we ordered gases and these were installed without leakages. During the training, I took some photographs on how to change a column, so this helped me a lot, as I was able to remove the existing column and replace it with a new one. I also changed the septum and liner in the injection port.

"With all these changes, our GC is working perfectly. The GC-MS training held in Lagos was of immense benefit to me and to my institution.
What are we doing next?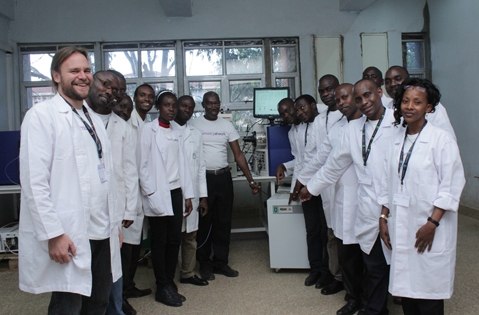 We have six training courses planned for 2018 – four on GC-MS and two on LC-MS.
In 2018, we will also be publishing a textbook for scientists carrying out GC-MS, which has been written by the PACN course trainers. This textbook will cover the theory and practical aspects of GC-MS, and will be tailored to the particular challenges faced by scientists working in Africa.
The partnership will carry on supporting our 11 local trainers. They will run the programme in the long term, helping to build a sustainable community of analytical chemists in Africa and create a lasting legacy.
Get involved with the PACN
Partner with us
If you would like more information on forming a partnership with the Royal Society of Chemistry, please get in touch using the form below.
Fundraising and donations
For all enquiries relating to fundraising and donations
Tel:

+44 (0) 1223 432497

Email:
PACN and you
If you are a scientist based in Africa and think that you would benefit from our analytical chemistry training, find a course near you now.
The PACN can support you in other ways too.
Support PACN activities
If you are interested in the PACN, use the form below to hear about the different ways you can get involved.
Royal Society of Chemistry
A not-for-profit organisation and quality publisher, we are a professional body for chemical scientists, with over 55,000 members in 125 countries, including over 750 across Africa.
GlaxoSmithKline (GSK)
GSK are a science-led global healthcare company, researching and developing a broad range of innovative products in pharmaceuticals, vaccines and consumer healthcare.
The PACN
Since 2008, the Pan Africa Chemistry Network has initiated a wide range of scientific collaborations, and, together with partners, invested over £2 million to support science in Africa.
Anthias Consulting
Anthias are experts in the separation sciences. They support the delivery of our GC-MS and LC-MS courses, providing training materials and specialist knowledge.
RORO (Recycling Organisation Research Opportunities)
RORO recycles redundant scientific analytical instrumentation by redistributing it to academic institutions in the developing world. They have provided scientific equipment for GC-MS and LC-MS to our PACN hub universities.
Our partnership with the Royal Society of Chemistry is one of the key investments we're making to tackle current and future healthcare challenges in Africa, support training and education, and give scientists more opportunities in their home country. Rogerio Ribeiro, Senior Vice President & Head of Global Health Unit, GSK
Share