Statistics of Chemistry Education
The Royal Society of Chemistry is working to compile up to date statistical information on chemistry education from the primary education sector through to postgraduate study.
You can explore our online platform for higher education statistics by clicking on the 'dashboards' below. You can filter the data using the drop-down menus to see statistics for a particular year, region or level of study, and hover the mouse over the graph to get a read out of the exact number.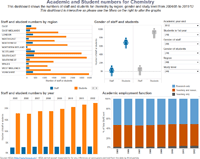 Academic staff and student numbers for UK chemistry higher education institutions
---
---
---
---
---
---
---
Downloadable Files
Statistics of Chemistry Education 2010


PDF (243k)
PDF files require
Adobe Acrobat Reader
Report on the salaries of professionally qualified chemical scientists who live and work in the UK. Free to RSC members and EnterprisePlus members.
Other Data
Related Links
Education at a Glance - OECD Indicators 2009
International statistics on education and training from OECD
Science, Engineering and Technology and the UK's Ethnic Minority Population
Report commissioned by the Royal Society to provide a more detailed picture of the level of participation in SET education and employment by age, sex and race
Statistics of Physics
Statistics on physics education and research from the Institute of Physics
Digest of Engineering Statistics
Statistics on engineering education and employment from The Engineering and Technology Board
Government Actuary's Department (GAD) - Projections database
Download the GAD's 'full' population projections by age and sex for the United Kingdom and constituent countries
External links will open in a new browser window
Royal Society of Chemistry
Details of RSC membership categories and application forms