Applied Inorganic Chemistry Award 2009 winner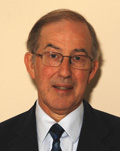 Jon Dilworth
University of Oxford
Awarded for his development and application of technetium, and other transition metal, complexes as radiopharmaceutical diagnostic imaging agents for clinical use.
About the winner
Jon Dilworth studied for his MA degree in Chemistry at Jesus College, University of Oxford from 1963-7. He then moved to the then Unit of Nitrogen Fixation (UNF) at the University of Sussex for a DPhil under the supervision of Professor Joseph Chatt and Dr Jeff Leigh.
The thesis involved research on dinitrogen and related complexes of rhenium and other metals as models for nitrogenase and having completed his thesis in 1970 he took up a permanent post at UNF. A DSc from the University of Sussex was awarded in 1981.
In 1985 he took the Chair of Chemistry at the University of Essex which provided the opportunity through a long term collaboration with Amersham (now GE healthcare) to develop what has been a continuing interest in the chemistry of the radioisotopes of technetium and rhenium and their applications in diagnosis and therapy.
In 1997 he moved to his current post as Professor of Chemistry at the University of Oxford and Senior Tutor in Chemistry at St Anne's College.
He has since continued the research theme of radiopharmaceuticals, expanding into the use of positron emitting copper radioisotopes for imaging hypoxia and radiolabelling proteins and peptides. His research has led to the publication of some 310 papers and involvement in raising over £15 million in funding.
He has inter alia served on journal editorial boards, edited a Volume of Comprehensive Coordination Chemistry, been a Vice President of Dalton division and organised and participated in International Conferences.
He is married with two daughters and his leisure interests include tennis, golf and gardening.