Applied Inorganic Chemistry Award 2011 Winner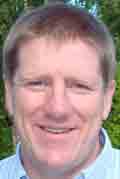 Russell Morris
University of St Andrew
Awarded for his outstanding work in the development of medical gas delivery agents, the synthesis of new porous materials for metal coatings, and the development of new methods for the characterisation of solids.

About the Winner

Russell Morris graduated from the University of Oxford in 1989, and stayed there to complete a D Phil in solid state inorganic chemistry in 1992. Subsequently he moved to the University of California Santa Barbara for postdoctoral studies. In 1995 he returned to the UK and the University of St Andrews, initially as a Royal Society of Edinburgh Research Fellow, but from 1998 he was appointed a Reader and in 2000 a Professor in the School of Chemistry. Between 1998 and 2005 he also held a Royal Society University Research Fellowship.

His research areas lie in the synthesis, characterisation and application of porous solids, including zeolites and metal organic frameworks. Among the scientific highlights of his career are the development of ionothermal synthesis - the use ionic liquids as solvent and template in the synthesis of materials - and the application of single crystal X-ray diffraction experiments at synchrotron sources for the solution of porous material crystal structures. In recent years applied science has been of increasing importance, and he has developed porous materials for the safe storage and delivery of medical gases such as nitric oxide. Commercialisation of these materials for therapeutic applications is ongoing on several fronts. He is currently working with SASOL Technology UK to develop further industrial applications of porous solids.

He has previously received several awards including the RSC Barrer award (2002), the RSC Corday Morgan Medal (2003), Fellowship of the Royal Society of Edinburgh (2008), a Royal Society Wolfson Merit Award (2009) and a Royal Society Industrial Fellowship (2011). Russell is also an associate editor for Dalton Transactions.

Related Links
The Morris Group
Department of Chemistry - University of St Andrews
External links will open in a new browser window