Centenary Prize 2014 Winner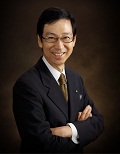 Professor Eiichi Nakamura
University of Tokyo
For his ground-breaking work on the science and technology of π-conjugated systems, fullerenes and nanotubes, and his recent achievements in atomic resolution molecular imaging.
About the Winner
Eiichi Nakamura obtained his PhD in chemistry at Tokyo Institute of Technology. After postdoctoral work at Columbia University, he returned in 1980 to his Alma Mater as an assistant professor, eventually being promoted to full professor. Since 1995, he has been Professor of Physical Organic Chemistry in the Department of Chemistry in the University of Tokyo and was designated as Special Professor in January 2014. He also serves as Chair of the Board of the Program Directors of the Japan Agency for Science and Technology (JST).
His research interests span synthetic, physical, materials chemistry and organic solar cells. He has recently focused on the use of transmission electron microscopy for imaging the motions and reactions of single organic molecules and molecular assemblies.
He has received the Chemical Society of Japan Award in 2003, the Humboldt Research Award in 2006, The Medal of Honor with Purple Ribbon in 2009 and the Arthur C. Cope Scholar Award of The American Chemical Society in 2010. He has been a Fellow of the American Association for the Advancement of Science since 1998, a Foreign Fellow of the Royal Society of Chemistry since 2005, an Honorary Foreign Member of the American Academy of Arts and Sciences since 2008, and an Associate Member of the Science Council of Japan since 2008.
Related Links
Professor Nakamura's Webpage
The University of Tokyo
External links will open in a new browser window