Charles Rees Award 2014 Winner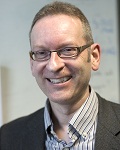 Professor Tim Donohoe
University of Oxford
For his multiple contributions to modern heterocyclic chemistry.
About the Winner
Tim Donohoe studied for a first degree in chemistry at the University of Bath (1985-1989). In 1989 he moved to Oxford to study for a D. Phil with Professor Steve Davies and then in 1992 went to the US for postdoctoral work with Professor Phil Magnus FRS.
In October 1994 he took up his first independent job as Lecturer in Chemistry at the University of Manchester, being promoted to Reader in 2000. In 2001 he moved to the Dyson Perrins Laboratory, Oxford as Lecturer in Chemistry and Fellow of Magdalen College. In 2004 he was appointed Professor of Chemistry at the University of Oxford and he was Head of Organic Chemistry at Oxford between 2006 and 2011.
Tim's research interests lie in the field of heterocyclic chemistry, catalysis and the synthesis of natural products. He also has a burgeoning interest in the area of hydrogen borrowing and the application of new catalytic reactions to the synthesis of aromatic systems.
Tim has published over 160 papers and his research has been recognized with the GlaxoWellcome Award for Innovative Chemistry (1996), the Pfizer Academic Award (2000), the Novartis Young Investigator Award (2001), the AstraZeneca Award for Organic Chemistry (2002), Royal Society of Chemistry Corday-Morgan Medal (2006), Royal Society of Chemistry Synthetic Organic Chemistry Award (2011) and the GlaxoSmithKline, AstraZeneca, Syngenta and Pfizer Prize for Process Chemistry Research (2012).
Related Links
Professor Donohoe's Webpage
University of Oxford
External links will open in a new browser window