Higher Education Teaching Award 2016 Winner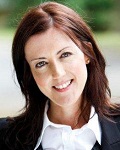 Dr Suzanne Fergus
University of Hertfordshire
Awarded for her sustained innovation in the teaching and assessment of chemistry across a diverse portfolio of undergraduate and postgraduate degree programmes
About the Winner
Suzanne Fergus completed her BSc (Chemistry) at University College Dublin and continued there to attain her PhD under the supervision of Prof Frank Hegarty, investigating nitrile ylide dimerisation and the carbene reactivity of nitrile ylides. She undertook post-doctoral work including at the University of Milan and University of Cambridge prior to joining the academic team at the University of Hertfordshire where she is now a Principal Lecturer in Pharmaceutical Chemistry.
Suzanne strives to help students bridge the gaps in their understanding of chemistry concepts, working with them within their own frameworks of cognition to develop new connections in their knowledge and understanding. Suzanne has sought to innovate with her teaching methods introducing pre-lab questionnaires, incorporating technology using a student collaborative online wiki that encourages critical reflection, utilising the student collaboration Peerwise tool and sharing video resources to enhance understanding of conceptually difficult topics.
Suzanne's chemistry education research has been recognised nationally and internationally. The innovative SChemEs assessment approach (J. Chem. Educ., 2013) focuses on developing and rewarding competency in the laboratory and the current phenomenon of new psychoactive substances has been incorporated to contextualise chemistry (J. Chem. Educ., 2015). She has obtained several innovation teaching awards and regularly participates in the annual RSC Variety in Chemistry Education conference.
Suzanne consistently engages in pedagogic research and obtained her MA in Education focusing on student engagement in chemistry. She has also obtained national recognition as a Senior Fellow of the HEA. Suzanne is a member of the RSC Tertiary Education Group.

Related Links
Dr Fergus' Webpage
University of Hertfordshire
External links will open in a new browser window