Higher Education Technician of the Year 2016 Winner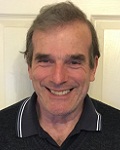 Mr John Fosbraey
University of Southampton
Awarded for his unstinting support and encouragement of chemistry students at the University of Southampton
About the Winner
I was born in the harsh winter of 1947, Chatham, Kent. After leaving Sheerness Technical High School for Boys I started work at Abbott Laboratories, a pharmaceutical company in Queenborough, Kent. Having worked there for six years I joined Shell Research, Sittingbourne, Kent as a Formulation Technician. Whilst there, after a titanic struggle, passed HNC in Chemistry at the Medway College of Technology.
After twenty two years in Formulation I transferred to the Analytical section. My last three years at Shell were working on Brake Fluids at the Koninklijke Shell Laboratorium Amsterdam (KSLA). My daughter, Vicky, had to come back to England to do her 'A' levels so I took early retirement from Shell so we could all be together as a family.
Being in Chemistry since leaving school, I tried various non-chemistry jobs but realised it was in my blood so applied to come to Southampton University as a Technician in the Chemistry department. Been here for nearly fifteen years and absolutely love working, communicating, with the students.
I have Chemistry to thank for appearing, over sixteen years, with my twin brother Richard as the 'Fosbraey Twins' on two television programmes, That's Gardening and Grass Roots appearing with Professor Stephan Buczacki, Pippa Greenwood and Richard Jackson.
I was fascinated by the chemistry of manures and composts that were dug in extensively all over our allotment. These gave an abundance of worms which unfortunately attracted a host of moles. We contacted a local radio gardening programme to ask how to rid ourselves of these pests. The radio team came to our allotment to interview us and this was passed to Roy Norton, a Director of TV's That's Gardening. Television 'fame' resulted in us opening garden fetes and being asked to talk about our television appearances all over Kent and Hampshire.

Related Links
Mr Fosbraey's Webpage
University of Southampton
External links will open in a new browser window