Inspiration and Industry Award 2013 Winner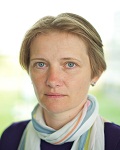 Dr Monika Papworth

MedImmune Ltd
For her creative ideas to build scientific understanding of chemistry and biology in schools and science festivals.
About the Winner
After obtaining her first degree in Biology from the University of Warsaw in Poland, Monika gained a Fellowship to study at the Paterson Institute for Cancer Research at the Victoria University of Manchester, where she was awarded a doctorate for her research into glycoproteins of EBV.
In 1995 Monika took up a post-doctoral position in the Herpes Virus Lab at the Marie Curie Research Institute in Surrey, specializing in molecular biology, gene regulation and protein engineering. Later she moved to work with Professor Sir Aaron Klug OM FRS at the MRC Laboratory of Molecular Biology in Cambridge, where she worked for 8 years on DNA-binding zinc-fingers and their use in the therapy of viral and mitochondrial diseases.
Joining in 2006, Monika brings more than 18 years of industry and academic experience to MedImmune and has worked on various early stage drug discovery projects mainly in the Cardio Vascular and Metabolic Disease therapy area. Her current role is in the Department of Antibody Discovery and Protein Engineering, where she is involved in developing methods for display and expression of therapeutic proteins and peptides. In addition, she is the author of numerous peer-reviewed scientific publications and patents.
During her time at the LMB MRC Monika was involved in the University of Cambridge Science Festival and the school outreach program. After joining CAT/Medimmune and building on this experience, she initiated the Outreach Program at MedImmune in Cambridge. Recently this Program, led by Monika, has won the 2013 AstraZeneca CEO 'Best of the Best' Award in recognition of her outstanding contribution to scientific education in the local Cambridge community.
Related Links
Dr Papworth's Webpage
MedImmune Ltd
External links will open in a new browser window