Interdisciplinary Prize 2016 Winner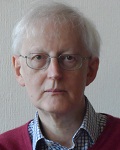 Professor Peter Hore
University of Oxford
Awarded for his outstanding contributions to understanding biological structure and function using the phenomenon of spin
About the Winner
Peter Hore has spent most of his life in the Department of Chemistry at the University Oxford, first as an undergraduate and a graduate (1973-80) and then, after a two-year Royal Society European Programme Fellowship at the University of Groningen (1980-82), as a Junior Research Fellow at St John's College (1982-83), before being appointed to a University Lecturership in Physical Chemistry and a Tutorial Fellowship at Corpus Christi College. A biophysical chemist with a background in magnetic resonance, his research is experimental and theoretical/computational in roughly equal amounts.
Much of what he has done may be classified as 'Spin Chemistry' - roughly speaking, the effects of electron and nuclear spins and weak magnetic interactions on the rates and yields of chemical reactions. Over the years, his research group has been interested in, amongst other things, photosynthetic energy conversion, protein structure and folding, chemically induced spin hyperpolarization, short-lived reaction intermediates, spin dynamics simulations, NMR techniques, and the effects of weak magnetic fields on (bio)chemical reactions.
Helped immeasurably by talented graduate students and postdocs and wonderful collaborators, he has spent much of the last ten years trying to unravel the biophysical mechanism by which migratory birds detect the direction of the Earth's magnetic field for the purposes of orientation and navigation. The evidence currently points towards photo-induced radical pairs in ocular cryptochrome proteins as the magnetically sensitive species.

Related Links
Professor Hore's Webpage
University of Oxford
External links will open in a new browser window