John B. Goodenough Award 2009 winner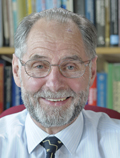 David Sherrington
University of Strathclyde
Awarded for his multivarious contributions to the materials chemistry of polymers in particular for control of porosity, synthetic routes to branched vinyl polymers and for polymer supported catalysts.
About the winner
David C Sherrington was born in Liverpool on 5th March 1945 and married his wife, Valerie, in 1972. He was educated at Waterloo Grammar School and was a Sir W H Tate Scholar at the University of Liverpool, where he graduated with BSc Hons (1966) and PhD Degrees (1969).
In 1972 he was appointed to a lectureship in the Department of Pure and Applied Chemistry, University of Strathclyde, and was promoted to Senior Lecturer in 1983 and to Reader in 1987.
In the period (1984 - 87) he was seconded as Polymer Science Area Head to Unilever Research, Port Sunlight, returning to the University of Strathclyde in 1987 as Professor of Polymer Chemistry and, in due course, Head of the Organic Chemistry Section.
He was elected Fellow of the Royal Society of Chemistry in 1981, Fellow of the Royal Society of Edinburgh in 1990 and was awarded his DSc from the University of Liverpool in 1992.
In 1993 his work on supported reagents and catalysts was recognised by the award of the Beilby Medal by the Royal Society of Chemistry, and his contribution to polymer chemistry by the award of the RSC Macro Group Silver Medal in 2002. He was elected Fellow of the Royal Society in 2007.
His interests outside of polymer materials chemistry include: Liverpool F.C; gardening and salmon/trout fishing (largest catch: 78 lb chinook salmon, caught in Rainbow Alley, Kenai River, Alaska 1997).
Related Links
David Sherrington's webpage
WestCHEM at the University of Strathclyde
External links will open in a new browser window