John Jeyes Award 2016 Winner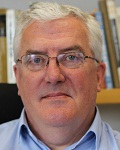 Professor Rod Jones
University of Cambridge
Awarded for significant contributions to our understanding of the processes which govern the structure and composition of the atmosphere
About the Winner
Roderic Jones is Professor of Atmospheric Science at the Department of Chemistry at the University of Cambridge. He holds a degree in Physics from the University of Oxford, from where he also obtained a DPhil in Atmospheric Physics. He spent five years at the UK Meteorological Office, eventually as Head of Atmospheric Chemistry research, and moved to Cambridge in 1990.
His expertise and interests are in the physical and chemical processes in the earth's atmosphere and their interaction with meteorology. A consistent theme throughout his career has been the development and deployment of new methods for atmospheric measurements and for the interpretation of observations using numerical models. He has pioneered a range of measurement methodologies, from using satellite instruments to measure stratospheric composition to developing ultrasensitive spectroscopic techniques such as cavity ringdown spectroscopy and its variants for studies of radical species.
In the past five years he has pioneered the development of low cost air quality sensors and sensor networks for studying urban air quality and its impact on human health, work which is revolutionising the approach to air quality monitoring and the study of the health impacts of airborne pollution. He has published widely on these subjects with approaching 200 peer reviewed publications. Over his career he has supervised over 30 PhD students, many of whom now hold influential positions in the UK and beyond.
Rod Jones is a Fellow of Queens' College Cambridge where he teaches all aspects of physical chemistry.
Related Links
Professor Jones' Webpage
University of Cambridge
External links will open in a new browser window