Main Group Chemistry Award 2010 Winner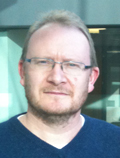 Simon Aldridge
University of Oxford
Awarded for his outstanding contributions to main group chemistry, particularly in the area of novel multiply bonded systems.

About the Winner
Simon Aldridge was born in Shrewsbury, England in 1970 and received his BA and DPhil degrees from the University of Oxford - the latter in 1996 under the supervision of Tony Downs.
After undertaking post-doctoral stints with Tom Fehlner at Notre Dame (as a Fulbright Scholar) and Mike Mingos FRS at Imperial College, he took up his first academic post in Cardiff in 1998. Following eight years sampling the delights of South Wales, he returned to Oxford in January 2007 where he is currently University Lecturer and Fellow of The Queen's College.
His interests are broadly in unsaturated and strongly Lewis acidic main group and transition metal systems, and encompass fundamental studies of new types of chemical bond and reactivity, together with applications, for example, in sensor technologies.
To date, efforts in these areas have given rise to 100 papers, articles and patents. Dr Aldridge was the 2009 awardee of the Dalton Transactions European Lectureship for his contributions to group 13 chemistry.
Related Links
Aldridge Group
Homepage for Simon Aldridge's research group
External links will open in a new browser window