2018 Robert Robinson Award Winner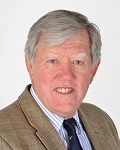 Professor Tom Simpson
University of Bristol
Awarded for pioneering interdisciplinary work on natural products chemistry, biosynthesis and chemical biology.
About the Winner
Born in Dollar (1947) and educated at Alloa Academy, Tom Simpson then graduated (BSc) first in his year (Macfarlan-Smith Prize) from the University of Edinburgh in 1969 and completed his PhD in 1973 at the University of Bristol, where he worked with Jake MacMillan FRS. After post-doctoral work with in Liverpool in the Robert Robinson Laboratories with Stan Holker and in Canberra with Arthur Birch FRS, he was appointed to a Lectureship in Edinburgh in 1978. He was awarded a DSc in 1986. He moved as a Professor to Leicester in 1988, at the time the youngest Professor of Organic Chemistry in the UK, and then to Bristol where he succeeded Jake MacMillan in 1990.
He has been awarded the Royal Society of Chemistry Corday-Morgan and Natural Products Chemistry medals and the Tilden, Simonsen and Hugo Muller lectureships, the Rita and John Cornforth Award in 2013; and the Sir James Black Medal of the Royal Society of Edinburgh in 2017. His research is multidisciplinary and covers all aspects of the chemistry and biosynthesis of biologically important microbial natural products. He has (co-)supervised nearly 70 graduate students and 20 post-docs in work that has led to ca. 240 papers to date.
He was elected FRS in 2001, FRSE in 2006, and received an Honorary DSc from Edinburgh in 2015. He is currently Emeritus Professor and Senior University Fellow at the University of Bristol and Visiting Professor in the School of Chemistry, University of Edinburgh, and serves as an elected member of RSC Council.
Related Links
Professor Simpson's Webpage
University of Bristol
External links will open in a new browser window