Soft Matter and Biophysical Chemistry Award 2016 Winner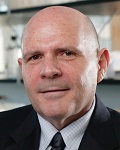 Professor Samuel Stupp
Northwestern University
Awarded for his fundamental contributions to the science of supramolecular soft matter and demonstrating its value to control biophysical interactions with mammalian cells
About the Winner
Samuel I Stupp was born in San Jose, Costa Rica. He received his BS degree in Chemistry from the University of California at Los Angeles in 1972, and his PhD degree in Materials Science from Northwestern University in 1977. He initiated his career as assistant professor of biological materials at Northwestern University in 1977, and in 1980 joined the faculty of the University of Illinois at Urbana-Champaign where he was appointed Swanlund Professor of Materials Science and Chemistry in 1996.
Since 1999 he has been Board of Trustees Professor of Chemistry, Materials Science, and Medicine at Northwestern University. He directs at Northwestern the Simpson Querrey Institute for BioNanotechnology and the Energy Frontiers Research Center for Bio-Inspired Energy Science. Professor Stupp is a member of the US National Academy of Engineering, the American Academy of Arts and Sciences, and the Spanish Royal Academy.
He is a fellow of the American Physical Society and the Materials Research Society, and his awards include the Department of Energy Prize for Outstanding Achievement in Materials Chemistry, the Materials Research Society Medal Award, the American Chemical Society Award in Polymer Chemistry, the American Chemical Society Ronald Breslow Award for Achievement in Biomimetic Chemistry, and the International Award from The Society of Polymer Science in Japan. He has received honoris causa doctorates from Eindhoven Technical University in the Netherlands, the University of Gothenburg in Sweden, and the National University of Costa Rica.
Related Links
Professor Stupp's Webpage
Northwestern University
External links will open in a new browser window