Spiers Memorial Award 2016 Winner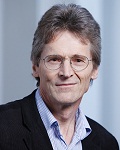 Professor Urs Baltensperger
Paul Scherrer Institute, Switzerland
Awarded for leading major advances in understanding the formation, composition and processes affecting atmospheric organic aerosols
About the Winner
Born 7 April 1955. Married since 1982 with Rosmarie, 3 children (32, 30 and 27 years old). Study of chemistry, University of Zürich, PhD at the University of Zürich in 1985. Since 1985 Employment at the Paul Scherrer Institute (formerly Swiss Federal Institute for Reactor Research), with 1 year (1989-1990) as Visiting Associate with Professor Dr John Seinfeld, California Institute of Technology, Pasadena in between.
Since 2000 Head of the Laboratory of Atmospheric Chemistry at the Paul Scherrer Institute, with currently 55 members. Since 2006 also Professor at ETH Zürich. Since 2010 member of the Research Council of the Swiss National Science Foundation and since 2013 also member of the Presiding Board of the Swiss National Science Foundation.
Author and co-author of more than 370 peer-reviewed papers, h-index 70, Thomson Reuters highly cited researcher since 2014 (no. 12 in highly cited publications in the field of Geosciences). He is currently supervising 22 PhD students.
He has received various awards, including the Fellow of the American Geophysical Union (2012), the Vilhelm Bjerknes Award of the European Geosciences Union (2014), and the Fuchs Memorial Award of the International Aerosol Research Assembly (2014). His main research interest is on aerosol formation and transformation processes, aerosol - cloud interaction, and effects on air quality and climate, or in short 'aerosols from cradle to grave'. These questions are addressed by a combination of laboratory and field experiments, complemented by modelling studies.
Chemistry in the Urban Atmosphere: Faraday Discussion

6 - 8 April 2016, London, UK
Related Links
Professor Baltensperger's Webpage
Paul Scherrer Institute
External links will open in a new browser window