Surfaces and Interfaces Award 2016 Winner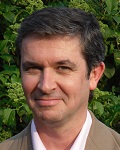 Professor Neil Champness
University of Nottingham
Awarded for his contributions to the self-assembly of molecular framework structures
About the Winner
Neil Champness began his academic career at the University of Southampton studying for a PhD (1993) under the supervision of Professor Bill Levason. Following postdoctoral studies with Professor Gill Reid he moved to the University of Nottingham in 1995 as a Teaching Fellow in Inorganic Chemistry. He took up an appointment as a Lecturer in Inorganic Chemistry (1998), was promoted to Reader in Chemistry (2003) and to the Chair of Chemical Nanoscience (2004).
His research spans the chemical nanosciences focusing on the development of novel strategies to control molecular organisation on surfaces, via supramolecular assembly, and organisation in the solid state, via crystal engineering. His research achievements have been recognised by the award of a number of Royal Society of Chemistry prizes including the Corday-Morgan Medal and Prize (2006), Supramolecular Chemistry Award (2010) and a Royal Society Wolfson Merit Award (2011). He has been a Visiting Professor at Institute of Chemistry - UNESP, Brazil (2009), the Institut Le Bel, University of Strasbourg, France (2011) and University of Adelaide (2014). Neil is a Fellow of both the Learned Society of Wales (FLSW) and the Royal Society of Chemistry (FRSC).
In 2011 Champness was named as one of the top 100 most cited chemists of the previous decade, one of only four UK-based chemists so-identified, and in 2014 and 2015 he was named a Thomson Reuters Highly Cited Researcher.
Related Links
Professor Champness' Webpage
University of Nottingham
External links will open in a new browser window