RSC Teamwork in Innovation 2011 Winners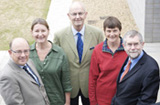 The Institute of Cancer Research
Abiraterone Discovery and Development Team
Awarded in recognition of their exemplary teamwork and scientific innovation that took abiraterone from idea to successful multicentre Phase III clinical trials for the treatment of prostate cancer.

About the Winners
Abiraterone was designed and developed by the Abiraterone Discovery and Development Team at The Institute of Cancer Research (ICR) and The Royal Marsden Hospital (RMH). It was first synthesised in the early 1990s and in 2011 it completed the journey from an idea to life-extending treatment for men with advanced prostate cancer.
Abiraterone has not only led to improved survival in men with advanced prostate cancer but has also changed the way we think about this disease. In April 2011, the US Food and Drug administration (FDA) approved the use of abiraterone in men with castration resistant prostate cancer, European approval followed in September 2011. The team has been interested in the integration of drug metabolism studies to the design of anti-cancer agents for many years. Initial work on design and synthesis of novel anti-hormonal drugs for the treatment of breast and prostate cancer led to the discovery of abiraterone.
The project was intially led by Professor Michael Jarman for the discovery phase, until his retirement in 2001. Since then the project has been in the clinical development phase, led by Dr Johann de Bono. Other team members are Dr S Elaine Barrie, Professor Gerry Potter, Professor Mitch Dowsett, Professor Ian Judson, Dr Gerhardt Attard and Dr Florence Raynaud. All the team members are still currently employed at the Institute of Cancer Research except for Gerry Potter who is now Professor of Medicinal Chemistry at De Montfort University, Leicester.
The Abiraterone Discovery and Development Team was awarded the 2011 Royal Society of Chemistry's prestigious Teamwork and Innovation Award for their contributions to developing this important treatment.

Related Links
The Institute of Cancer Research
The story of Abiraterone
External links will open in a new browser window