Environment, Health and Safety Issues: Why do we worry about...?
The notes found on this page are about chemicals that some of us may be concerned about as a result of wide coverage in the media. They aim to dispel some of the misconceptions and promote a balanced understanding of the possible risks and benefits associated with chemicals.

25 February 2013
Providing an insight into our current understanding of the risks associated with bisphenol-A
---

25 February 2013
Phthalates are a group of man-made chemicals mainly used in PVC plastic. PVC is used in many everyday items. Concerns have been raised about the safety of some phthalates.
---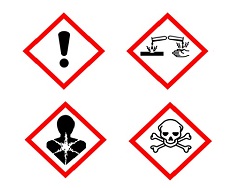 23 April 2012
If you have bought chemicals since December 2010, then you may well have noticed a change to the hazard labelling
---

17 April 2012
Parabens are the most widely used preservatives in cosmetics and personal care products which they protect from deterioration during storage and use
---
17 April 2012
Brominated flame-retardants (BFRs) are chemicals containing bromine which are added to materials such as plastics and textiles to make them less flammable.
---

16 April 2012
This Note outlines the effect that mixtures can have on living organisms, how their potential impacts are currently calculated and policy approaches to mitigate risk.
---

16 April 2012
Salt is needed to keep a healthy balanced diet but an insufficiency or excess can cause us problems
---

17 February 2012
Perfumes comprise a wide range of both natural and synthetic compounds that are selected for use based on their pleasant odour.
---

03 August 2010
Concerns have been raised about potential risks to the health of workers, consumers and the environment with the increase in manufacture of nano-materials
---
06 April 2010
For many people, food additives have become synonymous with E numbers
---
17 April 2009
Everything is made of chemicals. Every chemical can be dangerous if used in the wrong way. Equally every chemical can be used safely if controlled in the right way.
---

17 April 2009
It is not widely recognised that all materials have the potential to be poisonous depending on the degree of exposure.
---

25 June 2008
Combustion processes are the major sources Dioxins in the environment; these have declined sharply since the 1980s
Contact and Further Information
Dr Steven Lipworth
Health, Safety and Environment Policy Adviser
Royal Society of Chemistry, Burlington House, Piccadilly, London W1J 0BA, UK
Tel: +44 (0) 20 7437 8656
Fax: +44 (0) 20 7437 8883

---
Ciara Dempsey
Regulatory Affairs Specialist
Royal Society of Chemistry, Thomas Graham House, Cambridge Science Park, Milton Road, Cambridge, CB4 0WF
Tel: +44 (0)1223 420066
Fax: +44 (0) 1223 423623

---