Visual Elements Trumps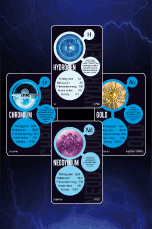 Visual Elements Trumps
is a fun, fast-paced chemistry card game based on the popular style of Top Trumps
TM
. The colourful, eye-catching cards are an attractive gift for adults and children alike. This simple game is entertaining, engaging and enjoyable, plus you may also learn a thing or two about the elements!
Each of the 30 cards represents an element using the stunning graphics from the legendary Visual Elements Periodic Table. The numerical game itself is based on the element's properties (boiling point, melting point, first ionisation energy, density and atomic radius) and includes extra fascinating facts about the elements.
Are you ready to play with the elements?
Feedback about Visual Elements Trumps:
"Fantastic, they are great!"
"I haven't stopped looking at them ever since they arrived."
"Really useful and fantastic for prizes too!"
"Loved the trump cards - got my friends into Chemistry."
How to order
To order, simply download the order form and fill it in, then post to the address stated on the form.
Alternatively, orders can be made by telephone with a Visa/MasterCard. Each pack costs £6 which includes VAT and P&P to a UK address.
For international orders or to place an order for 10 or more packs, please email or telephone Education Distribution Services directly.
Downloadable Files
Visual Element Trumps Mail Order Form
Download, print out and fill out this form, then post to Education Distribution Service, Education House, Castle Road, Sittingbourne, Kent ME10 3RL, UK


PDF (190k)
PDF files require
Adobe Acrobat Reader
Related Links
Cell Trumps
A trumps game exploring cells in the human body, developed by the Centre of the Cell team
External links will open in a new browser window
Related Products
Elemental data at your fingertips!
---

Copyright: 2000
Murray Robertson
Science meets the visual arts in this exciting interpretation of the periodic table of the elements.
---

Copyright: 2006
The jigsaw would be an attractive gift for any puzzle-loving friends or relatives, and might even spark an interest in chemistry.
Contact and Further Information
Education Distribution Services
Education House, Castle Road, Sittingbourne, Kent ME10 3RL
Tel: + 44 (0) 1795 427614

---