Energy & Sustainability
Chemistry contributes to developing solutions to inter-connected global challenges in energy and sustainability. Here we bring together our activities and resources for scientists, businesses, policymakers, educators and members of the public.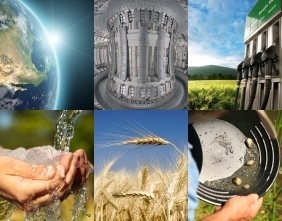 Key Themes
The chemical sciences have a key role to play in production of power & other products from plant & waste materials (biomass).
---
The RSC is engaging with policymakers, scientists and industry on the scientific and environmental aspects of civil nuclear in the United Kingdom.
---

Find out more about our activities to support and champion research and innovation aimed at harnessing solar energy to make electricity and fuels.

Our work in agriculture looks at how chemistry, in partnership with other sciences, can contribute to food security.
---
Our work in sustainable products investigates closing the loop, from sustainable supply of critical raw elements to recycling component parts.
---
We aim to raise awareness and support research into water through various policy activities, public activities and other events.
Our Activities
Imperial College London, Lecture Theatre 2.28, Royal School of Mines, London, United Kingdom
03 April 2014
---
4 April 2014, Chemistry Centre, London. A one-day symposium on Chemistry in Energy, featuring six world-leading scientists who have been awarded RSC Prizes and Awards
Major conferences centrally organised by the RSC
---
Join the latest experts in The Chemistry Centre in a variety of exciting and understandable events for the public.
Funding opportunities available from the RSC and elsewhere.
---
Main Prizes and Awards by Subject

All RSC Prizes and Awards listed by subject
---
A list of RSC policy documents and reports relevant to the Sustainable Energy roadmap area
---
A list of RSC policy documents and reports relevant to the Resource Efficiency roadmap area
Member Networks
Promotes the study and dissemination of all aspects of inorganic chemistry concerned with the chemistry of the elements and their compounds.
---
Environment, Sustainability and Energy Division

ESED is open to all members of the RSC as a society wide grouping to represent environmental and related activities.
---
The Materials Chemistry Division (MCD) was born in 1993 at the first International Conference on Materials Chemistry (MC1) in Aberdeen.
---
The Agriculture Sector organises meetings and conferences, which provide a forum for the discussion and exchange of ideas in areas of interest to members.
---
The mission of the Energy Sector is to provide a forum to access knowledge and express views on matters relating to energy
---
Find out more about the Environmental Chemistry Group
---
International Network of Environmental Forensics

Founded in 2008 for the express purpose of providing a forum for scientists to share information regarding the use of environmental forensics
---
Find out more about the Toxicology Group
---
The WSF focuses on the application of chemical sciences in water treatment, disposal of wastewater and the impact of these activities on the environment
---
Journals
---
---
---

The home of cutting-edge research on the development of alternative sustainable technologies
---

The international journal for inorganic, organometallic and bioinorganic chemistry
---
A new journal for findings of exceptional significance from across the chemical sciences [External Link]
---
Books

Copyright: 2011
Gopal Nath Tiwari
A unique book dealing with all types of renewable energy resources, aimed at scientists but also a textbook for science students
---

Copyright: 2011
Thomas J Wydrzynski
Written by experts, this book presents the latest knowledge and chemical prospects in developing hydrogen as a solar fuel.
---

Copyright: 2011
R M Harrison
This book is concerned with reviewing the political and social context for nuclear power generation, the nuclear power fuel cycles and their implications for the environment.

Copyright: 2012
R M Harrison
This comprehensive volume examines the environmental impact made by agriculture in the 21st Century, looking forward to the future with the lessons of the past.
---
Copyright: 2010
R E Hester
In this book, a group of experts contribute articles covering a wide range of topics relevant to sustainable water.
---