Discovery of Brilinta - UK discovery excellence
18 April 2012
Over the last 30 years, improvements in healthcare and technology have led to an increase in life expectancy and a general rise in standards of human health. The UK has for decades been a world leader in medicines discovery and research. The discovery of Brilinta is a unique example of drug discovery excellence and is a potential blockbuster for the treatment of antithrombotic conditions for use in reducing heart attacks and cardiovascular death.
The RSC had the great pleasure in welcoming Dr John Dixon to the Chemistry Centre, London to talk about the story behind this discovery and highlight Brilinta as an exemplary example of UK discovery excellence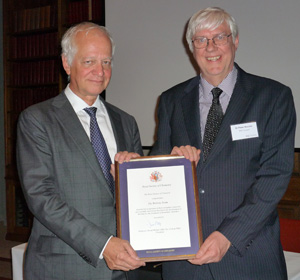 Dr John Dixon and Dr Peter Machin at the Chemistry Centre
Dr John Dixon, has 36 years experience in industrial Pharmaceutical Research & Development in several therapeutic areas. During his talk he outlined key aspects that led to the discovery of Brilinta, as well as highlight the role of UK medicinal chemists and touching on the changing nature of UK drug discovery.
You can watch the entire lecture and discussion via the link at the bottom of this page.
Related Links
Discovery of Brilinta Lecture at the Chemistry Centre
View the lecture and discussion
External links will open in a new browser window
Contact and Further Information
Dr Anne Horan
Programme Manager, Life Sciences
Royal Society of Chemistry, Thomas Graham House, Science Park, Milton Road, Cambridge, CB4 0WF
Tel: 01223 432699

---