The Discovery of Thallium
150 years ago, on March 30th 1861, William Crookes published an article in 'The Chemical News' (a journal founded by Crookes) titled 'On the Existence of a New Element, probably of the Sulphur Group' about the element that he was soon to name Thallium.
As with many discoveries, Crookes' original aim was something else entirely:
'In the year 1850 Professor Hofmann placed at my disposal upwards of ten pounds of the seleniferous deposit from the sulphuric acid manufactory at Tilkerode, in the Hertz Mountains, for the purpose of extracting from it the selenium.' 1
'A portion of the residue introduced into a gas-flame gave abundant evidence of selenium. suddenly a bright-green line flashed into view and quickly disappeared. An isolated green line in this portion of the spectrum was new to me.' 1
In a second article two months later, 'Further remarks on the supposed new metalloid', Crookes named the element, Thallium:
'. to propose for it the provisional name of Thallium, from the Greek Thallos, or Latin Thallus, a budding twig, - a word which is frequently employed to express the beautiful green tint of young vegetation; and which I have chosen as the green line which it communicates to the spectrum recals with peculiar vividness the fresh colour of vegetation at the present time.' 2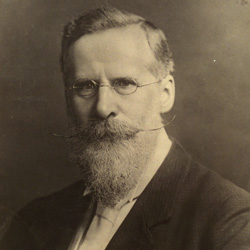 William Crookes (1832-1919)
Some controversy arose around this discovery as French scientist Claude-Auguste Lamy also discovered this element during the same time period, using flame spectroscopy like Crookes had. Both scientists ended up receiving medals awarding them for their discovery of the metal and so the discovery is now generally attributed to them both.
Thallium has a number of industrial uses, e.g. in optical glass for photocopiers and fax machines; for emergency flares used at sea; in low-temperature thermometers. However, it has had a more sinister use as a poison because even a very small dose, as little 800 milligrams, can be fatal. It was used by Agatha Christie in her novel 'The Pale Horse' and there have also been notorious real-life cases as a murder weapon and to dispose of spies; Saddam Hussein was reputed to have used it against his opponents.
Sir William Crookes went on to become President of the Chemical Society from 1887 to 1889. One of his other notable works, the invention of the Crookes Tube was one of the precursors to the Cathode Ray Tube, most popularly used in television sets.
Further Reading
D'Albe, E E F, 1923, Life of Sir William Crookes, Fisher Unwin Ltd, London (RSC Item ID: 13613)
Emsley, J 2006, The Elements of Murder: A History of Poison, Oxford University Press, Oxford (RSC Item ID: 20110121)
Lee, A G 1971, The Chemistry of Thallium, Elsevier, Amsterdam (RSC Item ID: 20071759)
Prick, J J G 1955, Thallium Poisoning, Elsevier, Amsterdam (RSC Item ID: 20020428)
References
Crookes, W 1861, 'On the existence of a new element, probably of the sulphur group', Chemical News, vol. 3, pp. 193-194.
Crookes, W 1861, 'Further remarks on the supposed new metalloid', Chemical News, vol. 3, page 303
Link to journal article
Obituary notices: Sir William Crookes, O.M., 1832–1919; Thomas Fairley, 1843–1919; Walter William Fisher, 1842–1920; Antoine Paul Nicolas Franchimont, 1844–1919; Harold Cecil Greenwood, 1887–1919; Charles Edward Groves, 1841–1920; John Holmes, 1871–1919; Sir Boverton Redwood, Bart., 1846–1919; John Charles Umney, 1868–1919
B. Dyer, T. E. Thorpe, J. A. Harker, C. Simmonds and F. Mollwo Perkin, J. Chem. Soc., Trans., 1920, 117, 444
DOI: 10.1039/CT9201700444
---
Also of interest
Chemistry in Its Element - Thallium

Chemistry in Its Element - Thallium
Related Links
External links will open in a new browser window
Contact and Further Information
Library and Information Centre
Royal Society of Chemistry, Burlington House, Piccadilly, London W1J 0BA
Tel: +44 (0) 20 7440 3373

---