Image Collection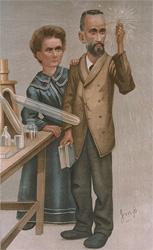 Radium: Marie & Pierre Curie
The RSC has an extensive collection of images, many of these being donations to the Society. There are around 9,000 images in the collection - nearly 3,000 of these have been digitised and are available to view in the Library Catalogue (link below). We also offer an image reproduction service:
Cecil Howard Cribb and other images - The mainstay of the RSC's image collection is the Cribb collection, which consists of about 450 individually mounted prints and portraits, and eight bound volumes of processes and/or instruments. These were donated to the Royal Institute of Chemistry after the death of Cecil Howard Cribb in 1942. Interestingly, this collection includes 44 full colour Vanity Fair cartoons, which provide a satirical view of current affairs during the late 1800s, and 33 caricatures - 16 of them showing chemical processes.

Other images - In addition to the Cribb collection we have another 1,631 individually mounted items. These are mainly photographs of famous chemists but also include a few very large illustrations, for example, 50 black and white prints on alchemy and ancient chemical symbols. Also of note is a collection of about 1,200 glass lantern slides of people and scenes. As with the rare book collection, we have images of all the famous chemists from the 5th century onwards including Agrippa, Priestley and Pasteur.

Dr Harold Rose crystal image collection - Dr Harold Rose is an industrial chemist and award winning photographer. We have 700 of his 35mm slides on crystals which he grew himself then beautifully photographed. Dr Rose has mounted many exhibitions of his slides and has now donated the full collection to the RSC.
Also of interest
Options available for viewing/acquiring our images.
Online catalogue for the Library collections
(Opens in a new window)
Contact and Further Information
Library and Information Centre
Royal Society of Chemistry, Burlington House, Piccadilly, London W1J 0BA
Tel: +44 (0) 20 7440 3373

---