Chemical biology news from across RSC Publishing.
Blow for disease diagnosis
24 November 2006
Breath tests may no longer be associated only with the police. Doctors could one day give health check-ups by analysing our breath, UK chemists say.
When we exhale, we breathe out a complex cocktail of volatile organic compounds (VOCs) in our breath. This mixture changes when we are unwell and could be used to diagnose diseases or infections, according to Paul Thomas and colleagues at the University of Manchester. Thomas's team has brought the idea a step closer with a sampling apparatus that can be used to analyse human breath.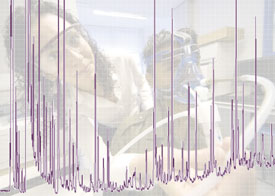 Breath sampler for disease diagnosis.
Thomas's system was designed to minimise the effect of environmental VOCs. Our breath profiles are all unique, explained Thomas. They also change over time through what we eat and drink, hormonal cycles, and many other factors. Environmental VOCs, including perfumes, tobacco smoke, and vehicle exhaust fumes, also vary significantly. This makes getting reproducible samples very difficult, said Thomas - but large sets of reproducible data are needed to establish which breath components are disease-related.
Using the new system, Thomas was able to collect reproducible samples successfully over 30 days. The sampling apparatus is even suitable for patients with breathing difficulties, said Thomas. The device detects pressure, so doctors can collect air at the same point in every breath cycle, even if the patient's breathing is irregular.
"Breath analysis has the potential to become a standard diagnostic tool."
'Breath analysis has the potential to become a standard medical diagnostic tool, not only in hospitals, but also in doctors' offices,' said Janusz Pawliszyn, an expert in air analysis at the University of Waterloo in Canada. Thomas has developed 'a robust method of collecting breath samples and subsequent characterisation of breath components,' he said.
Thomas's group will investigate whether the new system can recognise disease by testing it with patients at a chest clinic. 'We hope to be able to differentiate [between] diseases like cancer, tuberculosis and pneumonia, without knowing beforehand what the illness is,' said Thomas.
James Mitchell Crow

References
An adaptive breath sampler for use with human subjects with an impaired respiratory function.
M Basanta, T Koimtzis, D Singh, I Wilson and CLP Thomas, Analyst, 2007,

DOI: 10.1039/B608608j