Chemical biology news from across RSC Publishing.
Diamonds on the brain
06 December 2006
An improved way of detecting cell signalling molecules could increase scientists' understanding of Parkinson's disease.
Bhavik Patel at Imperial College London, UK, together with Greg Swain at Michigan State University, East Lansing, US, and colleagues have used diamond coated microelectrodes to monitor the release of the neurotransmitter serotonin from small intestine cells.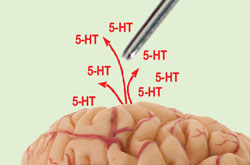 Diamond-coated microelectrodes could be used to detect serotonin in the brain
Serotonin is an important signalling molecule in the gut, said Patel. Being able to measure its release from gut cells will allow us to better understand how these cells function and to investigate how serotonin secretion changes during various disease states, he explained.
Serotonin can be detected electrochemically. It oxidises at an anode surface and the current produced can be measured. However, serotonin oxidation products can adsorb onto electrodes to form an insulating layer, a process called fouling.
Patel and Swain's diamond coated electrode overcomes the problem of fouling widely associated with conventional carbon fibre microelectrodes. Since diamond's outer surface is terminated with hydrogen groups it does not contain the oxide groups that are usually required for adsorption. Patel and Swain successfully predicted that this would mean their electrodes would foul less.
Patel said that the electrode could find a use in the real-time measurement of samples in vivo. The results could help us to learn about behavioural changes and the onset of disease conditions from Parkinson's to irritable bowel syndrome, he said.
"These diamond electrodes could also be used for serotonin measurements in the brain."
Jill Venton, a neurochemist at the University of Virginia, Charlottesville, US, described the work as significant. She added that, 'future advances will include even smaller microelectrodes that will cause less damage to the tissue when implanted. These diamond electrodes could also be used for serotonin measurements in the brain.'
Sarah Corcoran

References
In vitro continuous amperometric monitoring of 5-hydroxytryptamine release from enterochromaffin cells of the guinea pig ileum
BA Patel, X Bian, V Quaiserová-Mocko, JJ Galligan and GM Swain, Analyst, 2007,

DOI: 10.1039/B611920d