Organic & Biomolecular Chemistry
1.0 Scope and Standards
Organic & Biomolecular Chemistry (OBC) is a bimonthly journal for the publication of original research and reviews focusing on physical organic chemistry, supramolecular chemistry, chemical biology and all aspects of organic synthesis. It brings together molecular design, synthesis, structure, function and reactivity in one journal. It publishes fundamental work on synthetic, physical and biomolecular organic chemistry as well as all organic aspects of: chemical biology, medicinal chemistry, natural product chemistry, supramolecular chemistry, macromolecular chemistry, theoretical chemistry and catalysis.
2.0 Article types
2.1 Communications
OBC Communications contain novel scientific work of such importance that rapid publication is desirable. Authors should briefly indicate in a covering letter the reasons why they feel that publication of their work as a Communication is justified. The recommended length is between two and five printed journal pages.
2.2 Full Papers
These contain original scientific work that has not been published previously. However, work that has appeared in print in a short form such as an OBC Communication or Chemical Communication is normally acceptable. Please note that full papers based on communications must represent a substantial extension of the original material.
2.3 Reviews
Reviews are short, easy-to-read articles which give a concise and critical appraisal of recent advances in an established field or a new area of research. Authors are encouraged to include their own views on developments, trends and future directions. In cases where a new or emerging area is being discussed authors are able to speculate about the future potential of the field. Note that Reviews replace the previous Perspective and Emerging Area article types.
2.4 Perspectives
*New in 2013* Perspectives are short articles in which the author takes a piece of recently-published research and presents it in the wider context of the field. Perspectives are designed to be forward-looking, describing how the field may advance in the future and the potential impact of recent work. Perspectives should be between 2-4 journal pages in length and generally contain no more than 25 references. Perspective articles are invited by the Editorial team; however we welcome suggestions for these from authors and readers.
3.0 Manuscript submission procedures
Submissions to Organic & Biomolecular Chemistry are handled either at the Cambridge Editorial Office or at one of our Associate Editor Offices. Authors are able to choose on submission which office handles their manuscript.
3.1 Submission to the Cambridge Editorial Office
Submissions to this office will be handled by an RSC Publishing Editor, who will carry out an initial assessment, select reviewers, make the decision on the manuscript and communicate this to the corresponding author.
3.2 Submission to an Associate Editor Office
Submissions to one of these offices will be handled by an Associate Editor, who will carry out an initial assessment, select reviewers, make the decision on the manuscript and communicate this to the corresponding author.
3.3 Appeals procedure
In cases where an author wishes to appeal against the original decision of either the Editorial or Associate Editor Office, the Cambridge Editorial Office will handle the appeals procedure.
For general guidelines on the submission of articles please refer to the RSC Guidelines for Authors below.
4.0 Characterisation of compounds
OBC has minimum characterisation data requirements for i) new compounds, and ii) known compounds which have been synthesised by a new method. These requirements are described below. There is no requirement to provide characterisation data for the synthesis of a known compound by a literature method; in these cases authors should provide a literature reference to previously-published characterisation data for that compound. Authors are, however, welcome to provide details of improved experimental protocols, more detailed characterisation data, or selected data from known compounds.
4.1 Organic compounds
4.1.1 Data required for both new compounds and known compounds synthesised by a new method
Copies of 1H NMR spectra (which contain no more than trace peaks which are not assigned to the structure in question) should be supplied as supplementary material
4.1.2 Data required for new compounds only (in addition to the data specified in 4.1.1)
It is the responsibility of authors to provide fully convincing evidence for the homogeneity, purity and identity of all compounds they claim as new. This evidence is required to establish that the properties and constants reported are those of the compound with the new structure claimed. Referees will assess, as a whole, the evidence presented in support of the claims made by the authors.
Required in all cases:
Complete numerical listings of 1H and 13C-NMR peaks in support of the assigned structure
Copies of 13C-NMR spectra (containing no more than trace peaks which are not assigned to the structure in question) as supplementary material
High resolution mass spectroscopy
Required in specific cases:
Infra red spectra should be supplied to support functional group transformations
Specific rotation should be supplied for non-racemic compounds
The determination of enantiomeric excess of nonracemic, chiral substances should be supported with either GC/HPLC traces with retention times for both enantiomers and separation conditions (i.e. chiral support, solvent and flow rate) or copies of the spectra for Mosher Ester/Chiral Shift Reagent analysis
Copies of 2D NMR and related experiments (i.e. NOE, etc.) should be supplied as supplementary material in cases where these data are used to assign the structure
Proof of absolute configuration should be supplied for chiral compounds. In cases where this is not available, a statement as to why this cannot be supplied should be included in the manuscript. For closely related structures assignment by analogy is acceptable if the configuration of one compound in the series is unambiguously assigned.
Note: In a small number of cases some of the characterisation techniques which are normally required for new organic compounds may not be applicable or possible to obtain (e.g. for some supramolecular systems). In these circumstances the evidence for identity and purity will be judged on a case-by-case basis by the editor and referees.
4.2 Biomolecules (e.g. enzymes, peptides, proteins, DNA/RNA, oligosaccharides, oligonucleotides)
It is not possible to give hard and fast requirements for the characterisation of biomolecules as the applicability and availability of different techniques often depends on molecule type or size. In all cases LC-MS or equivalent data (e.g. HPLC data plus MS data on collected peaks) should be supplied for key synthetic intermediates, and as evidence of purity and identity of the final compound. Additional data, such as high field 1H or 13C NMR, X-ray crystallography or sequencing data (for proteins and oligonucleotides) may be provided if available. In some cases authors may be required to provide some of this additional data if it is thought necessary by the referees. For new derivatives comprising modified monomers, the usual organic chemistry analytical requirements for the novel monomer must be provided (see 4.1. Organic Compounds). It is not however necessary to provide this level of characterisation for the oligomer into which the novel monomer is incorporated.
5.0 Information about drawing structures or schemes
When drawing structures or schemes, authors should use the correct sizes and settings in order to maintain consistency. These graphics should ideally be created in ChemDraw and they should be supplied at the size you wish them to appear in print, using the same drawing settings for all structures.
Templates which provide the correct settings for several drawing programs are available. ChemDraw users can also use the pre-loaded "RSC (1-column) document" or "RSC (2-column) document" document settings. Full guidance on presentation of structures and other graphics is available in the RSC Guidelines for Authors. When submitting an article which contains structures or schemes to OBC, authors should pay particular attention to the following key points:
Graphic widths should be up to 8.3 cm (1-column) or 17.1 cm (2-column)
Graphics should ideally be created to fit these widths to avoid articles containing large amounts of white space
Graphic height should be a maximum of 23.3 cm
Use solid or hatched wedges to depict stereochemistry
It is important not to change the scale of a graphic to modify its width - this results in unevenly-sized graphics

Recommended text size is Arial 7pt and bond lengths 0.43 cm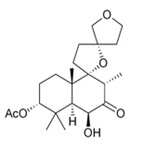 Example of a correctly formatted structure
Submitting incorrectly-formatted files will result in a request from the handling editor to provide revised versions.
Downloadable Files
Guidelines for Authors
Download the full guidelines


PDF (272k)
PDF files require
Adobe Acrobat Reader