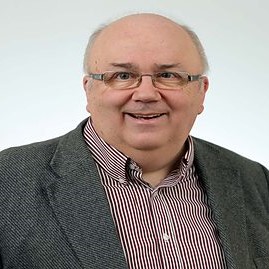 Dr Diarmaid Hanna CChem FRSC
Citation
For outstanding service to the Royal Society of Chemistry through his dedication to supporting a diverse range of activities in Northern Ireland and representing their chemistry community through his involvement with a number of Boards and committees.
Dr Hanna has worked throughout his career to help small companies in Northern Ireland to deverlop new products and meet their regulatory requirements.
Dr Hanna commented " I am very honoured to receive this award. I am passionate about bringing the wonders and joys of chemistry to a wider audience especially school children. The award is also a reflection on the hard work of the Northern Ireland Local Section.
Dr Diarmaid Hanna CChem FRSC
Diarmaid Hanna is a Chartered Chemist who has worked in both Industry and Public Service Laboratories. He is currently Technical Director of d5 Consultancy which specialises in product development and regulatory advice for business e.g. Biocidal Products Regulations and CPL requirements. Over the years Diarmaid has developed cream liqueurs, veterinary disinfectants, industrial and human hygiene detergents. He is currently Chair of the Ireland Region Steering Group of the RSC, member of the Consultancy Group Committee, Member Networks Committee and the Northern Ireland Local Section Committee. He also sat on the Membership and Qualifications Board.
While not practising chemistry Diarmaid is a passionate believer in bringing it to the public in a meaningful and understandable way. He has participated in the Northern Ireland Science festival since its inception 5 years ago. He also brings his Bubble Science project to primary schools every year. He has also addressed local history societies and the History Group for the Blind and Partially Sighted. He is currently chair of the Board of Governors of St Teresa's Primary School in Belfast. He served on the BBC Audience Council in Belfast from 2014 to 2017.
A member of the Linenhall Library (founded in 1788), he is greatly interested in Irish History. He also enjoys walking, current affairs, crosswords and following Manchester United and the Irish Rugby team.
Contact and Further Information
Networks Team
Royal Society of Chemistry, Thomas Graham House, Science Park, Milton Road, Cambridge CB4 0WF
Tel: +44 (0) 1223 432269

---