Centenary Prize 2012 Winner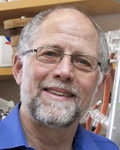 Professor Stephen Withers
University of British Columbia
For his phenomenal contributions to our understanding and redefining of enzyme reaction mechanism and to the development and application of "designer-enzymes" for the synthesis of oligosaccharides.

About the Winner
Steve Withers was born in Somerset England and completed his undergraduate & graduate work in Chemistry at the University of Bristol, England, completing his thesis under Michael Sinnott on the mechanism of E coli-galactosidase. His postdoctoral studies at the University of Alberta under Brian Sykes & Neil Madsen employed heteronuclear NMR approaches to understanding the role of pyridoxal phosphate in the mechanism of glycogen phosphorylase. He joined UBC as assistant professor of chemistry in 1982.
Steve is an authority on the mechanisms of glycosyltransferases and glycosidases, the enzymes that catalyze the assembly and decomposition of glycoconjugates. Amongst other things he has developed various approaches for trapping reaction intermediates on these enzymes, and for identifying key catalytic residues, both by mass spectrometric methods and through kinetic analysis of mutants. Using the insights gained he developed and patented glycosynthases, a new class of enzymes that synthesize complex sugars and has been perfecting these catalysts, along with 'natural' glycosyltransferases, through directed evolution approaches.
He has also developed and discovered new classes of glycosidase inhibitors with potential for the treatment of diabetes and influenza. He has published over 400 papers in the areas of enzyme mechanism and engineering and inhibitor design. His honours include election as FRS in 2012, being a finalist for the 2010 NSERC Herzberg Prize, Canada highest science research award and winning the International Carbohydrate Organization's 2002 Roy L. Whistler Award. He was a founding member of the Canadian Protein Engineering Network of Centres of Excellence (PENCE) and served as its scientific director from 2000-05. Steve has also long been a keen kayaking enthusiast and between 1982 and 1986 served as member of and then coach/manager of the Canadian National Whitewater Team.
Related Links

Professor Stephen Withers' webpage
Chemistry @ UBC
External links will open in a new browser window