2019 Centenary Prize Winner
Professor Laura Kiessling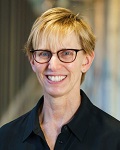 Massachusetts Institute of Technology
Awarded for outstanding contributions to our understanding of the assembly, recognition and function of carbohydrates in living organisms.
About the Winner
Laura Kiessling is an institute member of the Broad Institute of MIT and Harvard, and the Novartis Professor of Chemistry at MIT. Her interdisciplinary research interests focus on elucidating and exploiting the mechanisms of cell surface recognition processes, especially those involving protein-glycan interactions. She and her lab also maintain an interest in multivalency and its role in recognition, signal transduction, and direction of cell fate.
Kiessling is a Fellow of the American Association for the Advancement of Science, and a Member of the American Academy of Microbiology, the Wisconsin Academy of the Arts and Sciences, the American Philosophical Society, and the National Academy of Sciences. Since 2005 she has served as the founding Editor-In-Chief of the journal ACS Chemical Biology. She is an author of over 140 peer-reviewed journal articles, and an inventor on more than 28 US patents. She is a member of the Research Advisory Board of GlaxoSmithKline, the Yale University Council, and the Council of the National Academy of Sciences. Her honors and awards include a MacArthur Foundation Fellowship, a Guggenheim Fellowship, the ACS Gibbs Medal, and, most recently, the Tetrahedron Prize.
Professor Kiessling received an Sc.B. degree in chemistry from the Massachusetts Institute of Technology, where she performed undergraduate research in organic synthesis with Professor Bill Roush. She received her Ph.D. in chemistry at Yale University for her research with Stuart L. Schreiber. After two years at the California Institute of Technology as an American Cancer Society Postdoctoral Fellow with Peter B Dervan, she joined the faculty of the University of Wisconsin, Madison in 1991. There she became the Steenbock Professor of Chemistry, the Laurens Anderson Professor of Biochemistry, and the Director of the Keck Center for Chemical Genomics. In 2017, she returned to MIT as the Novartis Professor of Chemistry.
Related Links

Laura Kiessling's Webpage
Massachusetts Institute of Technology
External links will open in a new browser window