Centenary Lectureship 2009/2010 Winner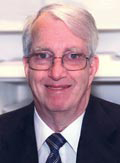 Leonard Lindoy CChem FRSC
University of Sydney, Australia
For his wide ranging and important contributions to coordination chemistry, ligand design and supramolecular chemistry.
About the winner
Len Lindoy is currently an Emeritus Professor in the School of Chemistry, University of Sydney and Conjoint Professor at James Cook University in Queensland. He also holds Honorary/Guest Professorships at East China University of Science and Technology (Shanghai) and Guizhou Normal University and Guizhou University (Guiyang, China).
Born in Wollongong, New South Wales, he graduated from the University of New South Wales with a BSc in 1963 and a Ph.D. in 1968. In 1985 he also obtained a DSc from this University. Following a postdoctoral appointment at Ohio State University with Professor Daryl Busch, he joined James Cook University as a lecturer in 1970, rising through the ranks to be appointed to the first Personal Chair at James Cook in 1987. In 1996, he moved to take up the Chair of Inorganic Chemistry at Sydney.
Professor Lindoy was elected a Fellow of the Australian Academy of Science in 1993 and a Senior Member of Robinson college, Cambridge. Over the years he has received a number of awards for excellence in research. He is the author or co-author of over 300 research papers and patents and two monographs. He continues as a full-time researcher at the University of Sydney.