Corday-Morgan Prize 2010 Winner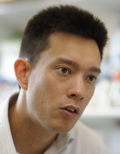 Jason Chin
MRC Laboratory of Molecular Biology
For his pioneering work on genetically encoding the synthesis of novel polymers in cells through the development of methods to incorporate, for example, new amino acids.
About the Winner
Jason Chin is a Group Leader at the Medical Research Council Laboratory of Molecular Biology (MRC-LMB), and a fellow in the Natural Sciences at Trinity College, Cambridge.
Jason was an undergraduate at Oxford, obtained his PhD as a Fulbright grantee from Yale, and was a Damon Runyon Fellow at Scripps. From July 2003 to early 2007 he was a tenure-track group leader at MRC-LMB. He became an EMBO Young Investigator in 2005 and a tenured group leader in 2007. He was awarded the Francis Crick Prize by the Royal Society in 2009 and the European Molecular Biology Organization (EMBO) Gold Medal in 2010.
His laboratory's work spans chemical biology and synthetic biology. He created the first method to systematically expand the eukaryotic genetic code. He created and applied a now widely used method to introduce photochemical probes into proteins in both prokaryotic and eukaryotic cells and map protein interactions in vivo.
His lab has evolved and reprogrammed the ribosome, long thought un-evolvable, invented new forms of gene regulation, provided insight into ribosome function, created new genetic codes in cells, and created the first synthetic, genetically encoded protein crosslink.
In addition his lab has created methods for genetically encoding a variety of post-translational modifications, including lysine acetylation and methylation, and used these methods to provide previously unattainable structural and mechanistic insight into the role of post-translational modifications in regulating cellular phenomena.
Related Links

MRS Laboratory of Molecular Biology
Jason Chin's Page
External links will open in a new browser window