Corday-Morgan Prize 2012 Winner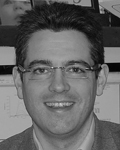 Professor Lee Cronin
University of Glasgow
For his outstanding work on the self-assembly of inorganic molecules and the engineering of complex systems.

About the Winner

Lee Cronin is the Gardiner Professor of Chemistry at the School of Chemistry, University of Glasgow and he runs the Cronin 'Complex Chemical Systems' Group in Glasgow.

Lee was an undergraduate and DPhil. student at the University of York, research fellow at the University of Edinburgh and an Alexander von Humbolt Research Fellow at the University of Bielefeld. From 2000 to 2002 he was a lecturer at the University of Birmingham, and moved to the University of Glasgow in 2002.

In 2006 he was promoted to Professor, became a EPSRC advanced research fellow in 2007 he was awarded a Philip Leverhulme Prize. In 2009 Lee was elected to the Royal Society of Edinburgh, awarded a Royal Society / Wolfson merit award and appointed to the Gardiner Professorship of Chemistry at the University of Glasgow. In 2011 he gave the opening lecture at TED-Global in Edinburgh called 'inorganic biology' and was awarded the RSC Bob Hay Lectureship.

Cronin is recognized for his creative studies in the field of inorganic chemistry, specifically the self-assembly and self-organization of inorganic molecules and the engineering of complex systems leading to the emergence of system-level behaviours. His pioneering contributions include the development of new techniques to control the assembly of nanoscale molecular metal oxide clusters, some of the largest non-biological molecules known, the development of new cryospray and variable temperature mass spectrometry (VT-MS) techniques for the elucidation of reaction mechanism and the observation of highly reactive intermediates as well as the discovery of emergent nano/micro structures such as tubules, membranes and inorganic cells.

He is currently developing a range of new reaction formats and techniques to explore chemical reactions including networked flow systems, 3d printing, and is developing systems, approaches and theories aiming at understanding and manipulating complex chemical systems, exploring systems chemistry, and engineering evolution in chemistry outside the confines of biology.
Related Links

Cronin Group
Professor Cronin's Research Group
External links will open in a new browser window