Corday-Morgan Prize 2014 Winner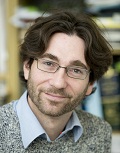 Professor Milo Shaffer
Imperial College London
For the development of transformative new nanocarbon chemistry and applications that can be applied at a practical scale.
About the Winner
Milo Shaffer is currently a Professor of Materials Chemistry at Imperial College London, and co-Director of the London Centre for Nanotechnology. Following a PhD at Cambridge University, he was awarded a Trinity College Prize Fellowship. He subsequently spent time working as a materials technology consultant in the areas of new technology development and exploitation, before returning to academic life. He joined Imperial College Chemistry in 2003, as a lecturer in nanomaterials.
He was awarded the Royal Society of Chemistry Meldola medal in 2005 and an EPSRC Leadership Fellowship in 2008.
He is interested in synthesis, modification, characterisation, and application of high aspect ratio nanoparticles (particularly nanocarbons and oxides/hydroxides). These materials offer unique combinations of properties; the question is to what extent these properties can be manifested in assemblies at a macroscopic scale.
His group has developed and studied a wide variety of nanocomposite systems for both structural and functional applications across a range of length scales. The key challenges in almost all cases, is the synthesis of high quality material, introduction of the appropriate surface/interface chemistry, and assembly/processing into higher order structures.
Related Links

Professor Shaffer's Webpage
Imperial College London
External links will open in a new browser window