Corday-Morgan Prize 2015 Winner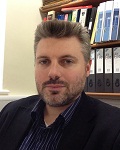 Professor Stephen Liddle
University of Nottingham
Awarded for his outstanding contributions to actinide chemistry, including significant advances in our understanding of the bonding, reactivity and magnetism in uranium and thorium compounds in particular
About the Winner
Stephen Liddle was born in Sunderland in the North East of England. He obtained his BSc (Hons) in 1997 and PhD in 2000 from Newcastle University. After postdoctoral fellowships at Edinburgh University, Newcastle University as the Wilfred Hall Research Fellow, and the University of Nottingham he was appointed to a fixed-term Lectureship at Nottingham in 2007. He subsequently took up a Royal Society University Research Fellowship and Lectureship in 2007, and he was promoted to Associate Professor and Reader in 2010 and Professor of Inorganic Chemistry in 2013.

He was elected a Fellow of the Royal Society of Chemistry in 2011 and as Vice President to the Executive Committee of the European Rare Earth and Actinide Society in 2012. He is Chairman of COST Action CM1006, a 22 country 120 research group network for f-block chemistry, and he is a National Co-ordinating Centre for Public Engagement Ambassador.

He was awarded the RSC Sir Edward Frankland Fellowship and the RSC Radiochemistry Group Bill Newton Awards in 2011, a Rising Star Award at the 41st International Conference on Coordination Chemistry in 2014, and the RSC Corday Morgan Prize in 2015. He was awarded a European Research Council (ERC) Starter Grant in 2009 and a ERC Consolidator Grant in 2014. He is a board member of Philosophical Transactions A of the Royal Society and Inorganics and he has published over 140 research articles, reviews, and book chapters.
Related Links

Professor Liddle's webpage
University of Nottingham
External links will open in a new browser window