2019 Corday-Morgan Prize Winner
Professor Roel Dullens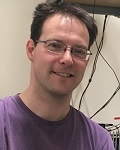 University of Oxford
Awarded for world-leading research to elucidate definitive experimental answers to fundamental problems in condensed matter science.
About the Winner
Roel Dullens obtained his MSc in Chemistry from the University of Utrecht (The Netherlands) in 2001. In 2005 he completed his PhD in Physical and Colloid Chemistry at the same University, under the supervision of Professor Willem Kegel. After that he joined the group of Professor Clemens Bechinger at the University of Stuttgart (Germany) as an Alexander von Humboldt Research Fellow to work on optical tweezing in colloidal systems. In August 2007, he was appointed as a University Lecturer at the Physical and Theoretical Chemistry Laboratory at the University of Oxford (United Kingdom), combined with a Tutorial Fellowship in Physical Chemistry at Lincoln College. In 2014, he became Associate Professor and, in 2016, he was promoted to his current position of Full Professor of Chemistry. He has been the recipient of an ERC Starting Grant in 2011 and an ERC Consolidator Grant in 2016, and has recently been awarded the 2019 McBain Medal from the RSC/SCI Joint Colloids Group.
His research interests cover a wide range of topics in soft condensed matter, with an emphasis on colloidal systems. In particular, he combines the development of novel colloidal systems using synthetic colloid chemistry with state-of-the-art optical manipulation and imaging techniques to study fundamental problems in condensed matter science. His current research topics include the synthesis and characterisation of new colloidal model particles, two-dimensional colloidal systems, grain boundaries and other defects in colloidal crystals, interfaces in colloidal systems and driven colloidal systems.

Related Links

Roel Dullens Webpage
University of Oxford
External links will open in a new browser window