2019 Dalton Emerging Researcher Winner
Dr Claudia Bonfio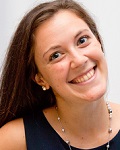 MRC Laboratory of Molecular Biology
Awarded for the development of chemistry to investigate the chemical roots of iron-sulfur dependent metabolism.
About the Winner
Claudia Bonfio is a Marie Curie Fellow at the MRC Laboratory of Molecular Biology and a Junior Research Fellow at Corpus Christi College (University of Cambridge, UK). She obtained her B.Sc. degree in Chemistry at the University of Siena focusing on protein crystallography and her M.Sc. degree in Chemistry at the University of Padova working on metal-based anticancer drugs. During her PhD in Biochemistry in the group of Prof. Sheref Mansy at the University of Trento, she spent research periods abroad at the MRC Laboratory of Molecular Biology (Cambridge, UK), exploring the photochemistry of iron-sulfur clusters (supervisor: Prof. J. Sutherland), and at Harvard University (Cambridge, MA, US) investigating on the astrochemistry taking place on early Earth (supervisor: Prof. D. Sasselov) and the emergence of primordial cells (supervisor: Nobel Laureate Prof. J. Szostak).
Currently, she is working on prebiotic chemistry in the lab of Prof. John Sutherland, focusing on non-enzymatic RNA replication within primordial cells. Among other national and international awards, she was included in the 100 under 30 list of young Italian talents by Forbes Italy and she was awarded the Reaxys SCI Early Career Researcher Award and the Primo Levi Award, the two most renowned awards given by the Italian Chemical Society to young chemists.
As she strongly believes in the importance of supporting and mentoring young chemists, networking in an international context and promoting fruitful collaboration between academics in Italy and abroad, she became a board member of the Young Chemists Committee of the Italian Chemical Society and a board member of the International Young Chemists Network. Besides being a chemist, she loves cooking and hiking.