2018 Chemistry World Entrepreneur of the Year Award Winner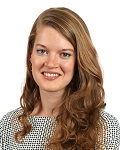 Dr Clementine Chambon
Oorja Development Solutions Limited
Awarded for outstanding contributions to the entrepreneurial application of bioenergy to solving major environmental, social and gender challenges in rural India.
About Clementine
Dr Clementine Chambon is co-founder and chief technology officer of Oorja Development Solutions Limited (Oorja), a social enterprise which aims to use solar PV and biomass to power off-grid and under-electrified communities in rural India. Oorja deploys decentralized energy systems known as "mini-grids" that provide affordable and reliable electricity to marginal farmers, small businesses and low-income households. It aims to scale last-mile distribution of clean energy, by leveraging a micro-franchise model and modular containerized solution, to help BoP communities increase productivity and income in order to revitalize the rural economy and alleviate poverty.
Clementine co-founded Oorja in 2016 with Amit Saraogi as a UK parent company with Indian subsidiary. She leads Oorja's technical development and is responsible for product design and engineering, training and building technical partnerships. Clementine recently completed a PhD in bioenergy at Imperial College London where she developed cost-effective technologies to harness the power of agricultural waste as a feedstock for renewable energy, fuels and chemicals production. She holds a first class Master's degree in chemical engineering from the University of Cambridge. Clementine is an Echoing Green Climate Fellow, Forbes 30Under30 Social Entrepreneur and was named Social Innovator of the Year by MIT Technology Review in France. Her passion lies in using locally available resources as a means to bringing about lasting socioeconomic and environmental change.
Related Links

Dr Chambon's Webpage
Oorja Development Solutions Limited
External links will open in a new browser window