Faraday Lectureship Prize 2010 Winner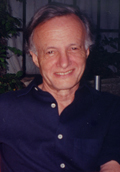 John Polanyi
University of Toronto
Awarded for his seminal contributions in advancing understanding of molecular reaction dynamics in the gas phase and at the gas-surface interface.

About the Winner
John Polanyi, educated at Manchester University, England, was a postdoctoral fellow at Princeton University, U.S.A. and the National Research Council, Canada. He is presently a faculty member in the Department of Chemistry at the University of Toronto. His research is on the molecular motions in chemical reactions in gases and at surfaces. He is a Fellow of the Royal Societies of Canada, London and Edinburgh, also of the U.S. National Academy of Sciences and the Russian Academy of Sciences. His awards include the 1986 Nobel Prize in Chemistry with D.R. Herschbach and Y.T. Lee, and the Royal Medal of The Royal Society of London.
He has served on the Prime Minister of Canada's Advisory Board on Science and Technology, and was the founding Chairman of the Canadian Pugwash Group. He has written extensively on science policy, the control of armaments and peacekeeping.
His laboratory's interest in the molecular motions responsible for chemical reactions at surfaces has received an impetus from Scanning Tunneling Microscopy (STM). The laboratory has four Ultra High Vacuum Scanning Tunneling Microscopes. With the aid of these instruments it is able to characterize the event of chemical reaction a-molecule-at-a-time at a variety of semi-conductor and metallic surfaces. A central finding is the localization of reaction close to the site at which the parent molecule physisorbs on the surface. This provides the basis for a method of maskless Molecular-Scale Imprinting. Novel mechanisms of self-assembly lead to such nano-structures as molecular corrals and switches. Studies of the imprinting step reveal detailed links between adsorbate geometry and reactivity.
Related Links

John Polanyi
Home Page
External links will open in a new browser window