Hickinbottom Award 2011 Winner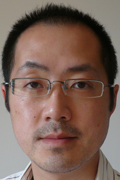 Hon Lam
University of Edinburgh
Awarded for his development of new metal-catalysed reactions that address important unsolved problems, typically with an "asymmetric twist".

About the Winner
Hon Wai Lam received an M.Chem. degree in chemistry from the University of Oxford in 1998, where he conducted undergraduate research with Jeremy Robertson. He then moved to the University of Nottingham to carry out his Ph.D studies, working under the direction of Gerald Pattenden. There he completed the total synthesis of the proposed structure of amphidinolide A.
In January 2002, Hon moved to Harvard University as a GlaxoSmithKline Postdoctoral Fellow to work with David A. Evans on asymmetric catalysis. In October 2003, Hon joined the School of Chemistry at the University of Edinburgh where he is now a Senior Lecturer. His group's research interests are based around the development of new synthetic methodology, asymmetric catalysis, and natural product synthesis.
Related Links

Lam Research Group
Department of Chemistry, University of Edinburgh
External links will open in a new browser window