2018 Hickinbottom Award Winner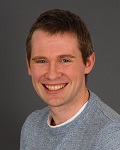 Dr William Unsworth
University of York
Awarded for creativity in the development of new methods for the synthesis of functionalised macrocycles and spirocycles
About the Winner
Will grew up in Coppull, Lancashire (UK), with his early education taking place at Southlands High School (Chorley) and Runshaw College (Leyland). He then went on to study chemistry at the University of Oxford, and remained there to complete his Ph.D. studies in the group of Prof. Jeremy Robertson, where he worked on rhodium catalysed oxyamination reactions.
He completed his Ph.D. in 2010 and then began work at the University of York, first as a postdoctoral research associate in the group of Prof. Richard J. K. Taylor, before being appointed to a Research and Teaching Fellowship in 2013. In 2015, Will was awarded a Leverhulme Trust Early Career Fellowship to develop new procedures to synthesise functionalised macrocycles and will soon be holder of the inaugural Eleanor Dodson Fellowship at the University of York.
His current research interests are split between the development of new methods for the synthesis of two important compound classes: macrocycles and spirocycles. He is also interested in exploring their use in applied field such as medical chemistry. To date, this work has led to the publication of 44 peer-reviewed papers and a book chapter of palladium catalysed macrocyclisation strategies. He also previously won the RSC/BMOS Young Investigator Award for his work on Successive Ring Expansion reactions. Will now lives in York with his wife Hayley and two children Billy (7) and Catherine (3).
Related Links

Dr Unsworth's Webpage
University of York
External links will open in a new browser window